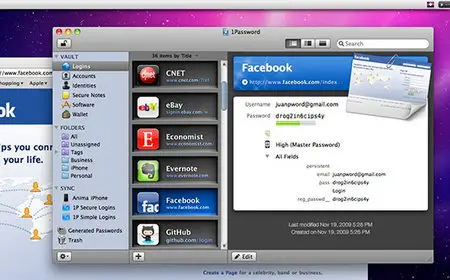 1Password 3.7.5 | Mac Os X | 17 MB
1Password is a password manager that uniquely brings you both security and convenience. It is the only program that provides anti-phishing protection and goes beyond password management by adding web form filling and automatic strong password generation. All your confidential information, including passwords, identities, and credit cards, is kept secure in one secure place using a highly encrypted keychain.
1Password fully supports most web browsers, including Safari, Camino, OmniWeb, DEVONagent, Firefox, Flock, Fluid, and NetNewsWire. All browser extensions share the data stored in the keychain which means you never need to manually copy your passwords between browsers or from the password manager to a browser ever again!
1Password has received numerous awards, including 4.5 mice from Macworld magazine, MacLife Editors pick, and was the Pick of Week on MacBreak Weekly by both Leo Laporte and Merlin Mann.
1Password also has a companion iPhone/iPod touch application available in iTunes App Store.
Operating Systems
Mac Os X 10.7 (Lion)
Mac OS X 10.6 (Snow Leopard)
Version 3.7.5:
Improved reliability of communication between Safari and the 1PasswordAgent.
Avoid Autosave on These Domains preference now updates automatically after clicking Never For This Site in Safari extension.
Updated Diagnostics Report to better report issues with Safari's Extensions.plist and fixed false report about Safari's Private Browsing mode.
Help links now redirect to the online User Guide instead of the (potentially old) version packaged within 1Password.
Reduced 1Password application size by removing documentation files that could be served from website.
Removed "Prompt for name to assign newly created Login" and "Automatically include username in Login title" Preferences as they are no longer being supported going forward.
Default Check For Updates frequency is now once every week (was once a month).
Changed Automatic Update delay on start up to check immediately if betas are enabled. Also reducing delay for non-beta users in an attempt to prevent them from quitting 1Password before the update is shown.
Fixed rare crash that could happen in 1PasswordAgent.
Go & Fill from main 1Password application now works in Safari 5.1 on Snow Leopard.