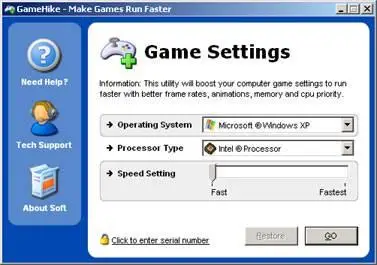 GameHike v1.5.21.2007a | 1.11 MB
GameHike sets the standard for PC optimizing software. GameHike increases overall speed and squeezes out every last bit of performance your computer is capable of. Very easy to use, fully compliant with all versions of Microsoft ® Windows and adjusts itself to your computer specifications. Bring your gaming to an all new level.
GameHike Details
• Makes direct changes to system registry and system files to enhance memory, screen drawing, animations, refresh rates, cpu threading speeds.
• Automatically adjusts settings and changes made based on computer specifications, complete fault tolerance system implemented.
• Deep system analyzer and diagnostic features which attempt to find and repair any potential problems with the computer affecting its performance