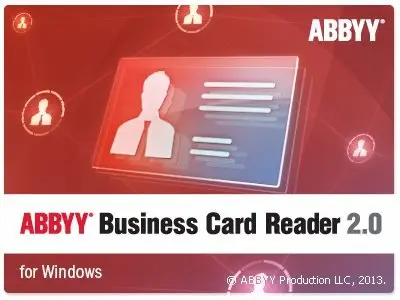 ABBYY Business Card Reader 2.0 Build 11.0.113.153 | 307 MB
ABBYY Business Card Reader 2.0 (for Windows) automatically digitizes paper business cards data and transforms it into systemized contact database. This software designed to help professionals boost their productivity, raise the effectiveness of their business communications, save time and eliminate tedious retyping. The application works perfect with virtually any scanning device.
Save your time for real business
You can scan and convert up to 10 business cards at a time with a flatbed scanner.
Get rid of manual contact entry
Superior accuracy of Business Card Reader enables you to digitize paper business cards in a few simple steps.
Keep all your contacts within reach
The application allows you to export contact information directly to Microsoft® Outlook® and Salesforce®.
Easy to Use, Straightforward Interface
No learning curve! ABBYY Business Card Reader's intuitive interface guides you straight to the results you need. For example, you can scan and export new contacts to Microsoft Outlook with just one click.
Higher Productivity from Automatic Operations
Almost all operations are automated and offer pre-defined settings that deliver optimum results. Saving your time, they free you to pursue more profitable tasks.
They include:
- Automatic scanning options
- Automatic and highly accurate language detection
- Automatic detection of card orientation
- Automatic splitting of multiple business cards
- Automatic detection of duplicated information when adding new contacts to an existing Microsoft Outlook or Salesforce database
- Quick Scan function for faster parallel scanning and digitizing
Superior Accuracy of Processing Contact Data
Business Card Reader features ABBYY's award-winning intelligent optical character recognition (OCR) technology. It "reads" the contact data on scans and digital photos so accurately that there is no need to correct or retype data. Saving you time and giving you fast access to important contact data, its key technologies deliver:
Up to 99,8% accuracy* from ABBYY's world-leading technology
- Intelligent data identification and capture that enables ABBYY Business Card Reader to identify virtually all types of contact data. These include First Name, Second Name, Last Name, Phone numbers (Mobile, Work, Home, Fax), E-mail, Company, Company address, Title and Web site. Once detected, all data types are automatically allocated to the appropriate fields in Microsoft® Outlook® or other similar databases.
- According to internal ABBYY testing. Accuracy and formatting results can vary depending on factors such as business card quality, design and scanner settings.
Highly Cost Effective, No New Equipment Required
- ABBYY Business Card Reader works with your existing equipment – no new investment required! The software is compatible with virtually any scanner or capture device, including digital and mobile cameras, and supports both TWAIN and WIA scanner interfaces.
Operating Systems:
- Microsoft® Windows® 8 / 7 / Vista® / XP
- Microsoft Windows Server® 2008 / 2008R2 / 2003
What's new in ABBYY Business Card Reader 2.0:Automated Capture of Contact Information
Business Card Reader automatically scans and "reads" paper business cards and sends the contact data to an external database – or saves it to an electronic format of your choice. Based on ABBYY's intelligent data capture technology, it accurately identifies information according to its type (First Name, Last Name, Phone Numbers, Address, etc.) and sends it to the corresponding fields in a database.
Multiple Business Card Scanning
The application allows you to scan and read up to 10 business cards simultaneously in a session when working with flatbed scanners. All contacts will be separated from each other and allocated to the corresponding fields of the database.
Flexible Export and Sharing Options
- Direct export to Microsoft® Outlook®, to an already existing contacts folder or a new one, created from within the application
- Direct export to Salesforce®
- Saving data to CSV format for export to Microsoft Excel® or any other contact management system
- Saving contacts as vCard files for easy sharing with Google® contacts and Google Calendar™, Apple® iPad® and Mac®.
Comprehensive Language Support
ABBYY BCR technology reads business cards in 25 popular languages which include both European and some Asian languages. In addition, it can easily process data from multilingual business cards.
Duplicate Contacts Detection
To make sure that your contacts are always well-tended ABBYY Business Card Reader will automatically checks new data against the existing information in the database when exporting contacts to Microsoft Outlook® or Salesforce®. If a similar contact is already stored in the database, the software automatically alerts you and provides the options of replacing the old contact with the new one, updating it or keeping them both.
Quick Scan Function
You can scan business cards while previously scanned cards are still being recognized, simply by clicking the "Scan Next" button and letting the program work for you.
Dual Side Scanning Support
You can scan both sides of a business card in one operation by using a scanner with dual-side mode. The second side of a business card will be saved as a picture (without recognition) with all the important contact information captured and allocated.
Compatibility with Virtually Any Scanner
ABBYY Business Card Reader works with any TWAIN or WIA compatible scanner, multifunction peripheral (MFP) or any business card scanner. The product can also process card images captured by digital cameras or mobile devices.
OS : Microsoft Windows 8, Windows 7, Vista and XP
Language : Multilingual
Home Page
-
http://www.abbyy.com