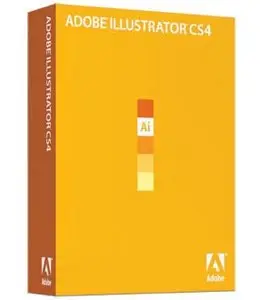 Adobe Illustrator CS4 ME 14.0.0 | 763 mb
The latest version of Adobe's industry-standard vector graphics application is here.I wouldn't want to have the job of coming up with new features for Adobe Illustrator, because it certainly wouldn't be easy to dream up something new for version 14 of the industry-standard vector drawing program. As one of those programs that has been honed and honed to near perfection, it's hard to think of something that it really lacks. Still, there is one missing feature that would come to the minds of the many Illustrator users who have been clamoring for it over the years: the ability to add multiple artboards.Well, it's your lucky year, vector pushers—multiple artboards are finally here. Illustrator CS4 breaks the single document mold pretty well too, letting you add up to 100 artboards of varying sizes. So I guess the big question now is "what else does Illustrator CS4 have?" Here's a short list of the major new improvements:
* Blob Tool for painting outlined strokes
* Separations preview
* New Gradient Tool with transparency in gradients
* Revised Smart Guides
* Key objects for alignment
* Tabbed interface
That's a pretty good list, so it seems we've got enough for a review.
System requirements
Nothing significant has changed in the program's system requirements. Illustrator isn't using the GPU for screen drawing, like Photoshop CS4. And it's still 32-bit only on all platforms. If your Illustrator documents are using 3+ GB of RAM, then you're doing something wrong. Also, having 32-bit and 64-bit versions would also add further costs to 3rd party plug-in developers; they have a hard enough time releasing new plug-ins for each Illustrator revision for both Windows and the Mac. In fact, I'm worried that Adobe's new shorter release cycle is going to kill off these immensely useful tools developed by small companies.
Windows
* 2GHz or faster processor
* Microsoft® Windows® XP with Service Pack 2 (Service Pack 3 recommended) or Windows Vista® Home Premium, Business, Ultimate, or Enterprise with Service Pack 1 (certified for 32-bit Windows XP and Windows Vista)
* 512MB of RAM (1GB recommended)
* 2GB of available hard-disk space for installation; additional free space required during installation (cannot install on flash-based storage devices)
* 1,024x768 display (1,280x800 recommended) with 16-bit video card
* DVD-ROM drive

Rapidshare
http://rapidshare.com/files/326000500/illustrator-cs4me-allulu.org.part01.rar
http://rapidshare.com/files/326413411/illustrator-cs4me-allulu.org.part02.rar
http://rapidshare.com/files/326413581/illustrator-cs4me-allulu.org.part03.rar
http://rapidshare.com/files/326000385/illustrator-cs4me-allulu.org.part04.rar
http://rapidshare.com/files/326001544/illustrator-cs4me-allulu.org.part05.rar
http://rapidshare.com/files/326000354/illustrator-cs4me-allulu.org.part06.rar
http://rapidshare.com/files/326000597/illustrator-cs4me-allulu.org.part07.rar
http://rapidshare.com/files/326412736/illustrator-cs4me-allulu.org.part08.rar
serial + activation
http://rapidshare.com/files/326414594/serial_ai.rar