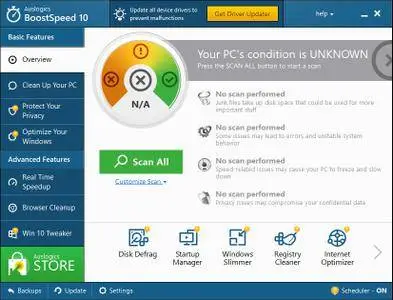 Auslogics BoostSpeed 11.2.0.4 Multilingual | 25 MB
BoostSpeed scans your computer to pinpoint the issues that may be responsible for the slowdown, and provides a safe and easy way to fix them along with a complete kit of powerful tools to enhance every aspect of your PC's performance. At a click of a button it does all of the following (or only parts you want done): cleans out junk, fixes the registry, tweaks Windows and Internet settings, defragments the hard drive – all to get your PC running fast and smooth again.
Discover and fix what makes your PC slow!
- Award-winning optimizer that will clean, fix and speed up your PC in a few simple clicks
- Experts recommend BoostSpeed as effective, fast and a program the entire family can use
- You get immediate PC speed improvement
To prevent PC trouble and make your life easier, BoostSpeed will
- Pinpoint the issues behind reduced performance
- Defrag your HDD, clean out junk and repair registry
- Speed up you PC and clean up your web browsers
- Help protect your privacy and recover deleted files
- Give you 15+ easy-to-use PC maintenance tools
You get over 20 tools in BoostSpeed to cover every need:
- Defrag files for maximum hard drive efficiency
- Stop unneeded services to free up memory
- Explore your disk drives for biggest space hogs
- Free up disk space from all types of junk files
- Disable unneeded startup items for faster boot
- Tweak system settings for improved experience
- Recover files that got deleted in error or by a virus
Operating System:
Windows® 10, Windows® 8 / 8.1, Windows® 7
Home Page
-
http://www.auslogics.com