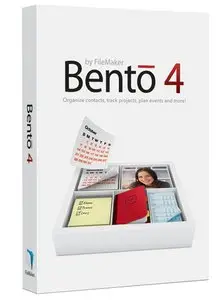 Bento 4.0.5 | Mac Os X | 97 MB
Bento is a personal database from FileMaker that's as easy to use as a Mac. Bento organizes all your important information in one place, so you can manage your contacts, coordinate events, track projects, prioritize tasks, and more faster and easier than ever before.
Features:
Bring It All Together: From contacts and calendars, to projects and events, you can organize just about every type of information you have all from one place.
See Things Your Way: Just drag and drop or point and click to change the look of any form, and see information in a way that makes sense to you. Now seeing, searching, and sorting your information is simpler and faster than ever before
Designed For Leopard: Bento has direct links to the Mac OS X Address Book and iCal, and takes advantage of many new features of Leopard, including core animation, advanced find, Time Machine, backups, and multimedia features.
If you're already using FileMaker Pro, be sure to check out Bento for your personal organization and productivity needs. It's also a great way to organize all your after-work activities, community projects, school events and more.
Requirements
PPC / Intel, Mac OS X 10.5.7 or later
Version 4.0.5:
Provides bug fixes and compatibility updates for Mac OS X Lion.