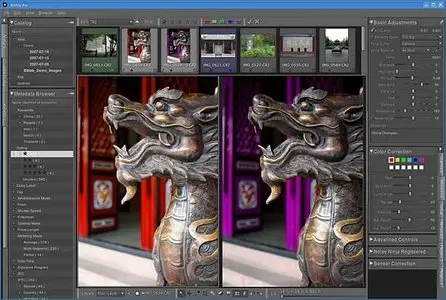 Bibble Labs Bibble Pro v5.0 | 73.67 MB
Bibble Pro
- professional program for viewing and processing digital photos. With this program you can correct the white balance, eliminate unwanted shades, adjust contrast, sharpness, color saturation, prepare and print your digital photos, as well as establish a rating for individual photos. In addition, the program allows you to remove noise in photographs, chromatic aberration, vignetting and so on. In the program there is a proprietary technology Perfectly Clear, which allows you to improve your digital photos in one click with the mouse. The program allows you to view images, manipulate photos in batch mode, to work with RAW images, and supports digital cameras of many manufacturers. The program interface can be completely customized to your taste and ease of use.
Key features:
• Expanded correction lenses
• Powerful digital noise reduction
• One-Clicks image correction using the excellent purification
• Fully integrated browser
• User-controlled instruments and the type
• Powerful batch processing of images
• Optimized print RAW image
• Appointment of your own shortcuts
• Flexible renaming
• Plug-in for Photoshop Elements
• Advanced Settings Copy and Paste
• Interface plug-in and plug-in black and white and color shading
• Fast conversion of RAW format
• Fully customizable work environment interface
In development for over two years, Bibble is the result of exhaustive research into how you, the professional photographer, want to work and how existing tools are not meeting your needs. We heard loud and clear that you don \ t make any money when you aren \ t behind your camera and thus everything in Bibble is geared towards making your workflow as fast and efficient as possible. At its core, Bibble features a proprietary image pipeline that yields accurate color through custom profiles and delivers blazing speed through platform specific optimizations. Based on over four years of experience, our image processing algorithms consistently deliver the most detailed, artifact-free raw conversions available.
In today's rapidly changing digital environment we also know that many of you, even within a single organization, frequently find yourselves dealing with images from a variety of cameras and sources. Further adding to the mix is the need to process these images using disparate computer hardware on tight deadlines. Bibble 4 helps resolve this dilemma by providing support for all the most popular cameras and consistent editing tools and processing speed on all supported platforms (Windows, OS X, and Linux).
While Bibble Pro has been designed with the working pro or serious hobbyist in mind, we also offer Bibble Lite to provide a cost effective alternative for the hobbyist or consumer. Bibble Lite shares all the core features of its big brother but leaves out certain features that are most likely only useful to a working pro (eg Tethered Shooting). While a single Bibble Pro license is valid for all three supported platforms, a Bibble Lite license is only valid for one. Both versions deliver the same high quality results and support all the same cameras.
Main features:
• Advanced Lens Correction
• Noise Ninja Powered Digital Noise Suppression
• One-Click Image Correction with Perfectly Clear ®
• Fully Integrated Browser
• User Configurable Tools / Views
• Powerful Batch Processing
• Raw Optimized Printing
• User Assignable Hotkey \ s
• Flexible Renaming System
• Photosop Elements Plug in
• Advanced Settings Copy / Paste
• Plug-in interface and Black and White / Spot Color Plugin
• Highlight / Fill-light tool for High Dynamic Range
• Fastest RAW Conversion
• Runs on Windows, OS X and Linux!
• Best-In-Class Detail Enhancement
• Fully Configurable Workflow
DOWNLOAD:
HOTFILE | FILEFACTORY
NO MIRROR PLEASE!!!
MY BLOG:
http://avaxhome.ws/blogs/presoft