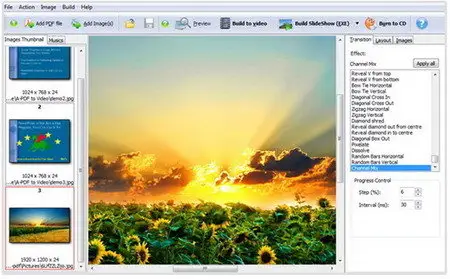 Boxoft PDF To Video 1.6.0.0 | 16.6 MB
Boxoft PDF To Video is software which can help you to batch convert PDF documents or images into sound-supported videos (AVI/ WMV/ MPEG), or standalone EXE/ SCR, or directly burn to CD/ DVD. Various output formats and also transition effects for you to use in different ways, which one would you like to use? Enjoy the product today!
Features:
1. Provide 4 output modes: Build SlideShow (EXE), Build SlideShow (SCR), Build to video (AVI, WMV, MPEG), Burn to CD;
2. Create sound-supported slideshow with PDF files, images;
3. Support add MP3 files to EXE or SRC format, define loop or not;
4. Provide 200+ kinds of Transition Effect: expand, slide, unroll, fade, reveal, bars, etc, they will display perfectly on output video or other formats;
5. Support Process Control on Step, Interval, Loop etc;
6. Add control buttons on slideshow: Continue, Pause, Preview, Next, Close;
7. Support record your explaining about the PDF or image slideshow into the output video course;
8. Support add PDF files continuously and Add Folders (Include sub folders) of images at a time;
9. Support 35+ formats of images: TIF, TIFF, FAX, G3N, G3F, XIF, JPG, JPEG, JPE, JIF, PCX, BMP, DIB, RLE, PNG, DCM, DIC, DICOM, TGA, TARGA, VDA, ICB, VST, PIX, PXM, WBMP, JP2, J2K, DCX, CRW, PSD, IEV, LYR, AVI, MPEG, MPG, WMV, etc;
10. Support acquiring images directly from scanner or digital cameras;
11. Support Drag and Drop to add images, or insert images in front of existing files in lists;
12. Support Reorder images: Move First, Up, Down, Last, or drag directly, or sort by name, file size, create time, or Rearrange etc;
13. Support Image Setting: Size, Flip, Rotate, Crop, contrast, brightness, Sharp, De-skew, Image effects—B/W, Gray scale and Edge Detection;
14. Support change Layout such as Image Placement, Background, Frame;
15. Support slide images setting such as Over Draw, Compress for Screen, DVD or Custom;
16. Support preview output effect of slideshow;
17. Support create Import List and Export List of frequently used;
18. Support Screen Capture Setting on Input and Output while Build to video;
19. Design and save as project (.XML) for later use.
OS :
Win XP/2000/Vista/Win 7
Language
: English
Home Page
-
http://www.boxoft.com/pdf-to-video/
Download link:

filesonic
http://www.filesonic.com/file/1618433431/Boxoft_PDF_To_Video_1.6.0.0.rar


My News

No more mirror please!