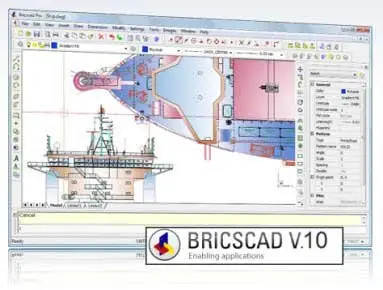 BricsCad Pro v10.2.8 Portable | 98 Mb
Bricscad is the powerful DWG-alternative CAD platform that enables DWG-based applications and offers a complete and recognizable feature set to professional users.
Here are 10 reasons why to choose Bricscad:
You can modernize your CAD for 1/5 the price of AutoCAD.
Bricscad offers full-function 2D/3D DWG-based CAD and a compelling technology roadmap.
Bricscad comes with friendly upgrade policies.
The people behind Bricscad are CAD veterans committed to world-class support.
Most users are transitioning from AutoCAD to Bricscad in one week or less.
Bricscad has over 100,000 users around the world and earned a 98% satisfaction rating.
Users and administrators in organizations with both Bricscad and AutoCAD prefer Bricscad.
Bricscad offers an AutoCAD-compatible programming platform that supports existing applications.
Increasingly, top developers are offering their existing AutoCAD applications and add-ons on Bricscad.
You can try it right now for free!
Other benefits
Enabling applications
Thanks to the extended list of compatible API's available (LISP, SDS, COM, BRX), Bricscad V10 is now chosen by more than hundred of application developers so far to port their AutoCAD® based application to. Each application extends Bricscad V10 feature set to a new level.
Enabling solutions
Applications in main domains, such as AEC, GIS, Mechanical and Civil Engineering lift the Bricscad platform to the highest professional level. With a constant growing number of available engineering applications the Bricscad platform offers real solutions for the job to be done.
Enabling choices
By enabling DWG based solutions in every engineering domain Bricsys now finally can offer freedom in the decision process. As from Bricscad V10 on, the DWG world does have a real choice. Bricscad V10 combines professional engineering solutions with a fair and transparent pricing model, and a user friendly upgrade policy.
Worldwide presence
Bricscad is worldwide leader in DWG alternative CAD. Bricscad V10 - today available in 13 languages - offers an international platform for applications. Bricsys - the company behind Bricscad - assists developers actively with the porting of regional and international applications. Together with the application developers, Bricsys is building an international DWG based engineering community.
High quality support
In addition to its technological strength, Bricsys delivers high quality support to each user, each developer, every day and everywhere. Bricsys' customers are leaders in their field and require a zero tolerance support. Bricsys eliminates barriers between its technical teams and the users of its products. Bricsys customers - anywhere on the globe - can communicate their support requests directly with the Bricsys support team.
Pricing
And finally, yes we know that our pricing is one of the main reasons why most people ultimately prefer our technology. Comparable quality for far less money. Download V10 and try it out for free for the next 30 days. We are confident…
Version 10.2.8 - 28/12/2009
Fixed
* SR21460 - COPYMODE: after using the COPY command, the COPYMODE variable was not always correctly reset.
* SR21677 - PRINT: vertical polyline edge was removed due to incorrect optimization.
* SR22332 - HATCH: if a hatch boundary contained part of a spline, the full length of the spline was stored in the boundary definition, while only the part actually used for the boundary should be stored.
* SR22379 - LISP: during (command pause) or pause in menu strings, it was not possible to use a snap override or an XYZ filter. For (getdist) without startpoint it was not possible to enter two points. This was because the pause only waited for a single input.
* SR22384 - SCRIPTS: in script mode, acedGetString(B) ignored the first argument.
* LISP/SCRIPTS: (command "TEXT" ins sz ang) or (command "DTEXT" ins sz ang) should switch to interactive mode if no text content is provided by the (command) statement.
* SETTINGS, category DIM_FORMAT: the "Fit" option could not be translated in Russian.
Homepage -
http://www.bricsys.com