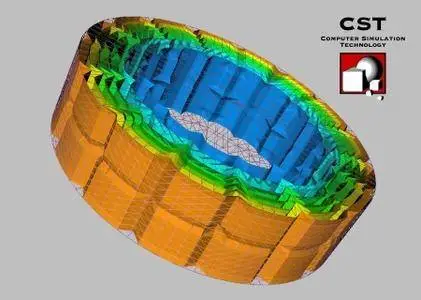 CST Studio Suite 2016 SP6 Update | 324.6 mb
Computer Simulation Technology (CST) announces the update of the 2016 version of the electromagnetic simulation tool, CST STUDIO SUITE. The latest edition has been developed to both extend the capabilities of the software and to improve its foundations.
CST STUDIO SUITE is an EM simulation software package containing solvers for applications across the electromagnetic spectrum, as well as multiphysics and particle applications. All of its tools are available within a single graphical user interface with strong integration between them. Engineers and researchers in a wide range of industries use CST STUDIO SUITE to develop new ideas, optimize their products, and ensure standards compliance.The 2016 release of CST STUDIO SUITE packs in a number of new features that allow simulation to be used in new ways in the design process.
The Integral Equation Solver (I-solver) now includes Characteristic Mode Analysis (CMA), a method for investigating the behavior of a radiating structure by calculating the current modes that it can support. The primary benefit of CMA is that it gives engineers a better physical understanding which allows them to improve the antenna design or to develop new antenna concepts.
With the new transient combine results feature, the coupling of fullwave 3D field solvers with the circuit simulation reaches a new level of integration. It allows the visualization of field and currents form a circuit connected to the 3D model even considering non-linear and switching elements on the schematic. This is particularly useful in EMC simulation of switched devices for example in the power electronics industry.
The new moving mesh technology allows an existing tetrahedral volume mesh to be adjusted without changing its topology to fit the new structure when parameters are changed. This saves time and reduces the noise associated with changes in mesh topology, allowing much more accurate optimization of devices whose behavior is sensitive to small geometric changes, e.g. of filters.
Changes in the Service Pack 2016.06:
General / Environment
- Fixed issue with automatic system shutdown in the Job Control Center.
EDA Import
- Cadence Allegro APD Plugin: Support for Cadence version 17.2 (64bit) New Feature!
Hexahedral (Hex) Mesh
- Fixed a matrix storage problem if the model consists of a lot of shapes.
CST MICROWAVE STUDIO - General
- Fixed issue in reading and writing of monitor with huge size.
- Repaired name generator for post processing start up call.
- Allow to start Eigenmode solver in coupled EM/Thermal SAM workflow.
CST MICROWAVE STUDIO - Transient Solver
- Fixed MPI issue with power loss monitor computed on subvolume monitor.
CST MICROWAVE STUDIO - Integral Equation Solver
- Improved accuracy for models with waveguide ports and curved elements with curvature order higher than 2.
- Fixed issue with radiation efficiency for lossy wires.
- Fixed issue with calculating radiated power for nearfield sources.
CST EM STUDIO - M-Static Solver (Unstructured Mesh)
- Repaired issue when continuing the mesh adaptation for the 2D magnetostatic solver.
Result Templates / VBA / Macros / External Data Access
- Fixed beam squint calculation of Farfield Result Template.
About CST Computer Simulation Technology AG.
Founded in 1992, CST offers the market's widest range of 3D electromagnetic field simulation tools through a global network of sales and support staff and representatives. CST develops CST STUDIO SUITE, a package of high-performance software for the simulation of electromagnetic fields in all frequency bands, and also sells and supports complementary third-party products. Its success is based on combination of leading edge technology, a user-friendly interface and knowledgeable support staff. CST's customers are market leaders in industries as diverse as telecommunications, defense, automotive, electronics and healthcare. Today, the company enjoys a leading position in the high-frequency 3D EM simulation market and employs 280 sales, development, and support personnel around the world.
Product:
CST Studio Suite
Version:
2016 SP6 Update
Supported Architectures:
32bit / 64bit
Website Home Page :
www.cst.com
Language:
english
System Requirements:
PC
Supported Operating Systems:
Windows 7even / 8.x / 10
Software Prerequisites:
CST Studio Suite 2016 and above
Size:
324.6 mb

visit my blog
No mirrors please