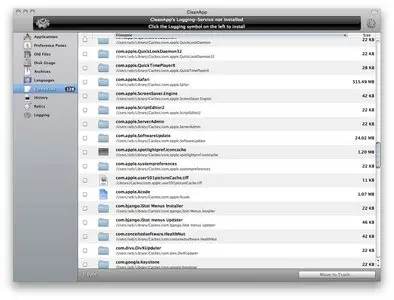 CleanApp 3.4.7 | Mac Os X | 14.4 MB
Have you become a hunter-gatherer in the digital age? Do you frequently download applications from the internet to test them and delete them afterwards? This is not the only reason for using CleanApp - this Swiss Army Knife of system maintenance utilities keeps your Mac clean, lean and efficient.
Use CleanApp's "Logging-Service", running in background and logging which file is created or changed by which application. When you do want to delete an application, CleanApp will suggest the files to be deleted along with that application because they were created by it.
Isn't that risky? What if a file is shared among several applications and thus still needed? This is where CleanApp's smarts come into play. If a file has been modified by more than one application, this file will show up in CleanApp's suggestions but by default be deactivated so it's not deleted.
The CleanCommunity, introduced in version 3.2, makes CleanApp even more effective. Why shouldn't you profit from other users' knowledge? When you remove an application from your Mac, CleanApp accesses the community server containing details about other users' decisions which files to delete along with that program and will base its suggestions on that information. The best thing is: because of that online data, CleanApp's Relics feature can find and remove remains of applications that you got rid of a long time ago - even if you didn't use CleanApp's Logging Service then.
Participation in the CleanCommunity is not just free of charge but anonymous, risk free and completely optional. Once you try it, though, you'll never want to miss it.
If your hard disk seems to be just too small again, maybe you don't really have to buy a bigger one. Chances are, it's simply stuffed with files you don't need anymore. Make use of CleanApp's ability to identify the largest files easily and decide wether or not they're still needed - quickly free up large amounts of disk space that way. Reclaiming your hard disk has never been as fast or as comfortable before.
Mac OS X 10.4.11 +
Version 3.4.7:
Bugfix: Faulty display behaviour while deleting duplicate files using text filters fixed
Bugfix: Search for relicts no longer displays applications still present in your system
Bugfix: Languages of protected applications will no longer be deleted
Enhancement: Log now shows deleted duplicates
Several more bugfixes and stability enhancements