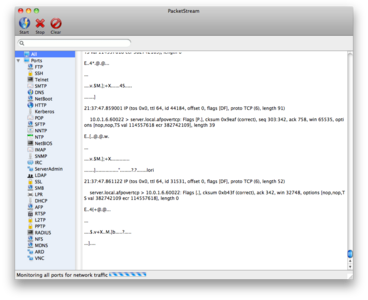 Code by Kevin PacketStream v4.0 MacOSX | 9.1 MB
PacketStream provides a user-friendly GUI for tcpdump, a command-line network monitoring tool included in Mac OS X. By pointing and clicking, you can monitor data as it streams over your network–especially useful for checking web traffic, network bottlenecks, or even suspicious network activity. PacketStream offers a simple way to configure and use the Mac's network monitoring tools, far easier than typing in cryptic commands in Terminal.
Why PacketStream?
Simple to use: Set a couple of user preferences, click a button, and go.
Save network data to a file or print for later analysis.
Monitor traffic on specific network ports.
Thorough user documentation via the "Help" menu.
AppleScript and Services support.
Keychain integration.
No need to build mulitple network monitoring libraries and non-Mac-native GUI's from source code.
Homepage:
http://www.codebykevin.com/packetstream.html
Actively maintained and improved.