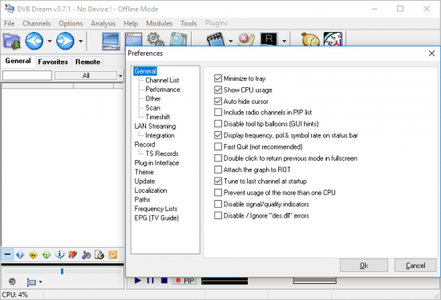 DVB Dream 3.7.1 Multilingual | 24.6 MB
TV Software for Windows (to use with USB or PCI Tuner cards/sticks). Watch & record TV on computer at the highest quality. With support for multiple devices, this program was developed in order to enhance your DVB experience, and lets you record multiple channels simultaneously and generate stats.
Still planning to use your computer to watch TV, but online television isn't exactly what you're looking for? Well, DVB Dream might lend you a hand in this regard, as the application comes with support for a wide range of devices, so there is a good chance that yours might be on the list too. DVB Dream was designed as an aid for the Digital Video Broadcasting Project. It helps owners of digital TV cards enhance their DVB viewing experience through its power, speed and unique features.
Complex setup and well-organized layout
The installation process of DVB Dream is smooth and quite speedy. You might find the pre-configuration process a little difficult, due to the fact that it requires some DVB knowledge. The most important aspect is to properly configure the Digital Satellite Equipment Control settings and the adjacent satellite preferences. Once you get past these steps, you will finally end up with a clean and professional interface that comprises all the tools you need to start using your DVB device properly.
Record multiple channels in the same time, view stats and analyze streams
Everything is well organized in menus, so scanning for channels, saving or opening them is just a matter of time once you get there. The application's engine relies on a very fast channel list system, so speed is not an issue in this case. Amongst the most important features we count the time shift capability, Multi Pip windows, LAN Streaming and multi-channel recording in MPG or TS format. You can also perform Pid Statistics and analyze streams from any channel.
Features:
- Multi PIP (19+1, watch a few channels at the same time)
- Multi recording (record more than 1 channel at the same time)
- UHD(4K)/HEVC support - HD/H264 support
- Timeshift
- LAN Streaming
- VLC or MPC Integration
- Auto-zap
- Unique channel list system (grouping/ordering by several flexible options)
- Favorite channels
- Quick Favorites
- Child lock
- Embedded aspect ratio modes
- Cropping / Zoom
- Sleep timer
- Record timer
- EPG
- OSD
- Scheduler
- Render-less mode
- Internal graph building
- Multi monitor support
- Command line support
- Network Scan
- Raw Diseqc commands support
- Plugins support
- Preffered languages
- Uncommitted switches support
- Unicable support
- Positioner support(including GotoX.X / USALS)
- Snapshot feature
- Keyboard shortcuts
- Remote control support
- Themes
- 29 languages support
Supported brands/models:
- TBS
- Genpix
- Twinhan
- Pinnacle
- Broadlogic
- DVB World
- Tongshi
- Prof
- Tevii
- Technisat
- Technotrend
- KNC
- NetUP
- Avermedia
- Anysee
- Compro
- Conexant
- FireDTV
- Hauppauge
- Omicom
- Nova
- Videomate
- QBox
- TT Budget
- Mystique SaTiX
- Azurewave
- Terratec
- Cinergy
- B2C2/Skystar
- CdvbAny
- All BDA devices
- and many others…
OS : Windows XP or 2000, 2003, 2008, Vista, Windows 7, Windows 8 and 10
Language : Multilingual
Home Page
-
http://www.dvbdream.org