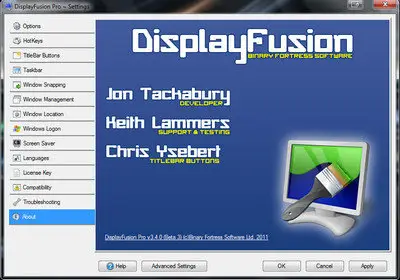 DisplayFusion Pro v3.4.0 Beta 3 | 1.62 Mb
DisplayFusion will make your multi-monitor life much easier. With powerful features like Multi-Monitor Taskbars, TitleBar Buttons and fully customizable HotKeys, DisplayFusion will make managing your multiple monitors easy. Take a look at some of the features below to learn how DisplayFusion can help you!
Add a Taskbar to every monitor, each with its own customizable options. The Taskbars support a Start Button, 'Show Desktop' button, auto-hide, button grouping, custom sizing, custom positioning and a clock.
DisplayFusion has powerful Wallpaper features that let you use images from your own computer, or load images from online sources. Tile, stretch, scale, crop, position and tint your images exactly how you want.
The TitleBar Buttons can be used to manage desktop windows, toggle DisplayFusion features or control certain Windows functions. You can move windows around, resize them, move them to other monitors, change window opacity and much more.
Drag a window close to a monitor edge, or close to another application and watch as it moves over and snaps to the edge. A great way to easily line-up your desktop windows.
Features:
Multi-Monitor Taskbar
TitleBar Buttons
HotKeys
Multi-Monitor Screen Savers
Multi-Monitor Wallpaper
Window Snapping
Window Management
Window Location
Windows Logon Background
Available in over 25 languages
Home Page:
http://www.displayfusion.com/