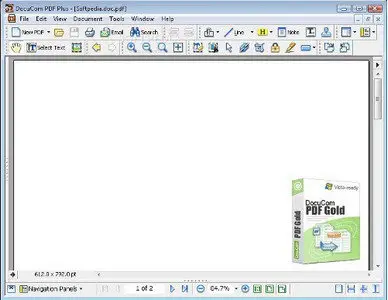 DocuCom PDF Gold Plus 9.51 | 31.05 Mb
PDF Gold combines two of DocuCom's most popular products, PDF Driver and PDF Plus. Now the ability to not only create but fully customize and edit your PDFs is available in one convenient package. PDF Gold's low price point offers the best value on the market for professional PDF management.
DocuCom PDF Gold 9 brings PDF creation and editing to the next level with a redesigned user interface and a host of new features. This time around, Zeon's designers took to the challenge of adding new functions while keeping the user experience simple and straightforward. The result is a PDF Gold that looks and feels deceptively simple - just don't underestimate the processing power that lies within.
With the new Gold 9 you can create PDF packages from multiple documents, or split large documents into separate files. Compare document revisions or migrate comments from one file to another. Add multimedia files like movies, sounds and 3D objects. And use the Barcode tool to make form data collection a breeze.
For anyone who's looking for a PDF application that offers all the features but at a fraction of the cost, look no further - PDF Gold 9 has arrived. Download the free trial-version today and see for yourself.
Key Features
PDF Creation - Second to None
Intuitive Browsing
Powerful Printing Controls
Document Assembly
Editing Bookmarks/Hyperlinks
Annotating/Reviewing/Marking up Documents
Securing Documents
Retrieving/Setting Document Properties
Creating PDF Forms
Searching/Indexing Documents
Editing Page Contents
Signing Documents (Digital Signature)
Sending Documents or Pages
Unlimited Redo/Undo
Expandable Architecture
How to Upgrade
Home Page:
http://www.pdfwizard.com