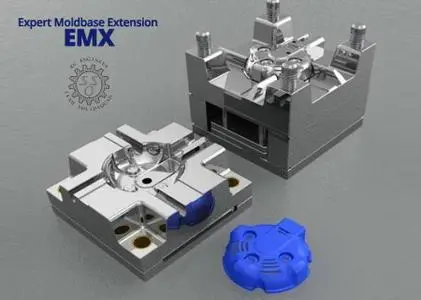 EMX (Expert Moldbase Extentions) 13.0.2.1 for Creo 7.0 | 369.4 mb
B&W Software, the leading global provider of add-on applications for the 3D-CAD System Creo Parametric, is pleased to announce the availability of Expert Moldbase Extension (EMX) 13.0.2.1 for PTC Creo 7.0. Use EMX to create a mold base as a regular assembly.
In this release we improved the functionality to transfer surface parameters from the reference part to insert parts in the cavity assembly. The algorithm is now independent from the Creo configuration option ENABLE_MOLD_EXTRACT_COLORING and works by comparing the surface geometry directly. Therefore, it's now possible to also transfer parameters on parting surfaces defined within the reference part.
Important note:
EMX 10.0 and 12.0 will be out of maintenance after these releases. All enhancements for EMX will be shipped in EMX 13.0 which is compatible with Creo 7.0.
13.0.2.1 Changelog Improvements
- Improve algorithm when transfering surface parameters from reference part to extract parts. [RM-11256]
- Improve set position behavior when reopening dialogs on multiple monitors. [RM-11252]
Bugfixes
- Issue fixed: Highlighting of components does not work anymore in drawing. [RM-11185]
- Issue fixed: Some menus in Simplified Chinese version EMX 13.0.2.0 are not translated by yet, for example, "Hydraulic Component", "Pneumatic Component", "Fluid Components" and "Remove all Components by Type" under EMX 元件 tab [RM-11297] [SPR-12581939]
- Issue fixed: Udf name is not taken into account in chamfer size rules. [RM-11329]
- Issue fixed: Parameter Designation status is not removed in case definition was changes from YES to NO. [RM-11377]
- Issue fixed in DIN580 screw [RM-11521]
- Issue fixed: Problem with line Up and down pushbutton in case of empty cell values. [RM-11541]
- Issue fixed: Renaming problem in Library assemblies where subcomponents are assembled multiple times. [RM-11553]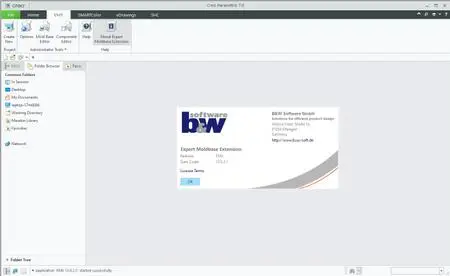 With Expert Moldbase Extension (EMX)
as a module fully integrated into Creo Parametric, you can extend your software portfolio in order to standardize or automate design tasks in the field of injection molding tools to a large degree, thus allowing you to focus more on your core tasks.
By integrating standard part libraries from all common manufacturers and providing numerous intelligent templates, you can handle tasks in the areas of tool design and standard part installation quickly and flexibly. You will be supported by user-friendly dialogs and input assistance, which offer you the available options as appropriate. By offering extensive analysis tools, users outside the design department also benefit directly of the automatically derived results.
Furthermore, the software naturally supports you when transferring the design data to the production area, both in the classic drawing derivation and in the digital and drawing-free transfer of the product and manufacturing information (PMI).
EMX
B&W Software
is the leading global provider of add-on applications for the 3D-CAD System Creo Parametric. Since many years B&W develops specially tailored software solutions to increase efficiency in the field of product design.
Industry solutions – from design to manufacturing – raise the bar while using Creo Parametric. As a strategic PTC partner B&W software products are fully integrated into the Creo Parametric system and are marketed through PTC channels.
The extension and customizing of your CAD environment by B&W software for intelligently automating routine tasks lead to cost saving and increased productivity. Furthermore you will increase most quality aspects of your products, cut down development cycles and create room for new ideas and perspectives.
Our partner PTC
is a leading provider of CAD, PLM and IoT Software solutions. Creo Parametric is the flagship solution for 3D CAD modeling and provides outstanding design capabilities for parts and assemblies. The widely established modules of this software portfolio (including some B&W applications) are installed at more than 28.000 enterprises worldwide and contribute to design and service advantages.
Product:
B&W Expert Moldbase Extension (EMX)
Version:
13.0.2.1 for PTC Creo 7.0
Supported Architectures:
x64
Website Home Page :
www.buw-soft.de
Language:
multilanguage
System Requirements:
PC *
Size:
369.4 mb
When running Creo Expert Moldbase Extension (EMX) 13.0.2.1 in the PTC Creo 7.0, the minimum requirements are superseded by the minimum requirements listed for PTC Creo 7.0.
Please visit my blog
Added by 3% of the overall size of the archive of information for the restoration

No mirrors please