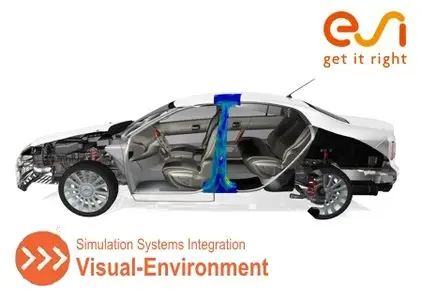 ESI Visual-Environment 9.6 | 2.9 Gb
Updated: Added ESI ProCAST 2014.0 & Visual-Environment 9.6 for Linux64
ESI Group, pioneer and world-leading solution provider in Virtual Prototyping for manufacturing industries, announces the launch of Visual-Environment 9.6, an integrated suite of solutions which operate either concurrently or standalone within a common environment.
Visual-Environment is a single integrated user environment that caters to the engineering simulation needs across major industries. It includes a comprehensive modeling tool to generate quality meshes on complex geometries for various engineering domains ranging from Crash and Passenger Safety to NVH, Welding & Assembly, Casting, Electromagnetics, CFD & Multiphysics, and more… Visual-Environment's interactive post-processing module caters to the requirements of the CAE community through its multi-page / multi-plot environment.
In addition, Visual-Environment's software development toolkit (SDK), allows you to customize and extend this open architecture through process templates and macros.
Visual-Environment incorporates the finest engineering knowledge & best practices with a process-oriented approach suited to the needs of a shop-floor user or a software savvy user alike.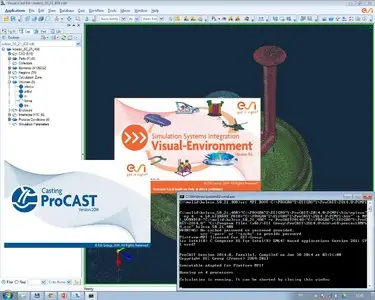 About ESI
ESI is a pioneer and world-leading provider in Virtual Prototyping that takes into account the physics of materials. ESI boasts a unique know-how in Virtual Product Engineering, based on an integrated suite of coherent, industry-oriented applications. Addressing manufacturing industries, Virtual Product Engineering aims to replace physical prototypes by realistically simulating a product's behavior during testing, to fine-tune fabrication and assembly processes in accordance with desired product performance, and to evaluate the impact on product use under normal or accidental conditions.
ESI's solutions fit into a single collaborative and open environment for End-to-End Virtual Prototyping. These solutions are delivered using the latest technologies, including immersive Virtual Reality, to bring products to life in 3D; helping customers make the right decisions throughout product development. The company employs about 1000 high-level specialists worldwide covering more than 40 countries.
visit my blog
Name:
ESI Visual-Environment
Version:
(64bit) 9.6
Home:
www.esi-group.com
Interface:
english, french
OS:
Windows / Linux
Size:
2.9 Gb
Special Thanks SSQ
All parts on filepost.com, rapidgator.com, luckyshare.net interchanged. It is added by 5% of the overall size of the archive of information for the restoration and the volume for the restoration

No mirrors please