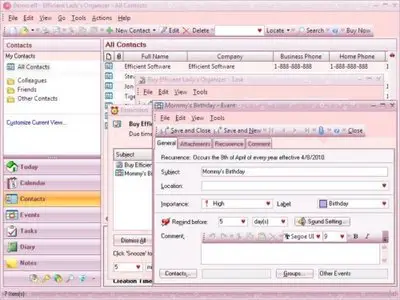 Efficient Ladys Organizer Pro 1.08 Build 28 (+ Portable) | 15.4 MB
Efficient Lady's Organizer is a Windows personal organizer software program designed especially for women. Behind the stunningly fashionable interface is a software powerhouse that combines a calendar, contact manager, planner, reminder, diary, notepad, and password manager. The new Portable Edition lets you load the program on a USB flash drive and use it at home, at the office, and while you travel.
Why Choose Efficient Lady's Organizer?
All-In-One Personal Organizer software
Efficient Lady's Organizer is a professional All-In-One personal organizer software program. It can manage your contacts, appointments, tasks, diaries, notes, passwords, or any other information you need access to.
Multiple Interface Styles Specially Designed for Ladies
You can choose from interface styles such as Love, Pink and Summertime that fully reveal ladies' tastes.
Portable Edition Available
The portable edition is designed to run from a USB flash drive. Now, with the USB drive, you can manage your personal information on different computers (such as one at home and another at work), and do not need to worry about data synchronization! Download Now >>
Free Edition Available
To meet different requirements from our friends, we provide a professional edition together with a free edition. You can upgrade from the free edition to the professional one at any time. Download Now >>
Easy to Search
Efficient Lady's Organizer has powerful search capabilities so you can quickly find your information.
Powerful Document Editor
Efficient Lady's Organizer has embedded a powerful document editor similar to MS-Word, which can be used to write your diary, memos, notes, remarks, and a variety of other documents.
Electronic Diary
You can insert pictures, emotions, tables, etc., to make a more colorful and vivid diary.
Password Management
Efficient Lady's Organizer provides you with a powerful way to manage all of your passwords. The password manager can help you record and find all your passwords. From now on, you only need to remember one password!
Desktop Notes
You can "stick" information on the computer desktop directly! At a glance you can see the information that is important to you.
Information Safety Safeguards
There is a Recycle Bin in this software, you do not need to be worried that you may delete some important information by mistake. The functions of Backup and Restore can help you conveniently save and migrate data. The software stores all sensitive information, such as passwords, in encrypted format.
Home Page
-
http://www.efficientsoftware.net/