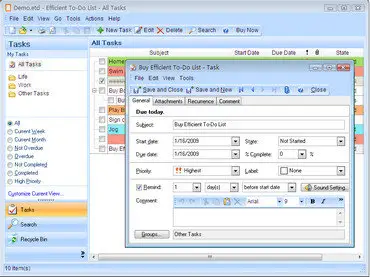 Efficient To-Do List Pro v1.67.99 | 4.39 Mb
Efficient To-Do List is a professional, elegant and handy task management software package. By specifying the priorities or order of to-dos (tasks) or specifying different colors for different task labels, Efficient To-Do List makes every effort to assist you in following the "First Things First" principle. It reminds you before a task starts or is due, helps you resist the temptation to "drag on" and brings you the sense of on-time job accomplishment. With its unlimited-level grouping and unlimited-level subtasks, you can better organize and manage the to-do list. The product saves you a lot of time with the great features such as quick find, copy and paste of to-dos and bulk import. Besides, there are many other special features such as displaying task list in card view, adding unlimited number of attachments or repeating recurring tasks in multiple modes and so on.
Multiple Interface Styles
8 interface styles are provided to meet your individual needs! They have various tones of color like blue, green or metallic, and have Vista standard and XP standard windows appearances separately.
Easy to Search
Efficient To-Do List has powerful search capabilities so you can quickly find your information.
Powerful Document Editor
Efficient To-Do List has embedded a powerful document editor similar to MS-Word, which can be used to write your comments for tasks.
Information Safety Safeguards
There is a Recycle Bin in this task management software, you do not need to be worried that you may delete some important information by mistake. The functions of Backup and Restore can help you conveniently save and migrate data.
Languages: English, Bulgarian, Croatian, Czech, Danish, Dutch, Farsi, Finnish, French, German, Greek, Hungarian, Indonesian, Italian, Korean, Norwegian, Polish, Portuguese, Russian, Simplified Chinese, Slovenian, Spanish, Swedish, Thai, Traditional Chinese
Web:
http://www.efficienttodolist.com