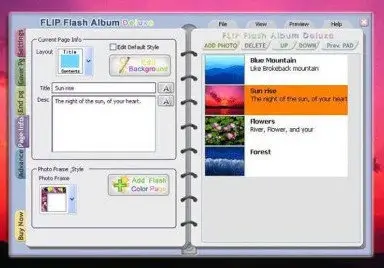 Flip Flash Album Deluxe 2.4 | 16.7 Mb
Best-in-a-kind program that allows you to create 3D digital flash - Photo of your favorite photos. Lets do a real effect of turning a digital photo album. Setting the background color. Creates a separate flash files.
FLIP Flash Album Deluxe, the best 3D page-flipping digital photo software, can help you to pack your favorite photos to a creative and real like flash flipping digital photo album.Then show it to your family and friends. This digital album will be played as a real album with flipping sound when you flip it by mouse.
FLIP Flash Album Deluxe aims to be the easiest to use and most powerful tool in this category. You may find many sorts of templates all ready. Just add your photos and select the appropriate template, an attractive flash photo album can be made so easy. The user-friendly flash photo album creator lets you create flash digital photo albums with photos, descriptions and dynamic Flash effects per page, MP3 music, SWF files and share the photo albums on the net, CDs or via email. DIY CDs, digital magazines and books, Flash slide show and promotion advertising can also be created by this smart software.
Features Version Deluxe
:
• Deluxe version allows you to make real effect of turning pages photo album.
• Added sorting photo frames.
• Added background music.
• Added titles and descriptions to your photos.
• Added background image to each page.
• Added dynamic Flash effects to each page.
• Directly create a separate flash file.
• Fine-tuning parameters.
• Various text effects.
• Change the size of the album.
• Adding a loader and additions.
• Many new patterns and materials for downloading.
• Preview window.
• And much more.
Home Page
-
http://www.flipflashalbum.com/