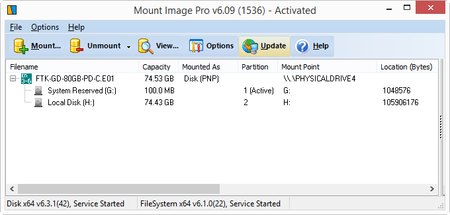 GetData Mount Image Pro 6.1.3.1626 | 75.1 MB
Mount Image Pro is a computer forensics tool for Computer Forensics investigations. It fully maintains the MD5 HASH integrity which can be tested by a reacquisition of the mounted drive and a comparison of MD5 checksums. It also will open EnCase password protected image files without the password. It enables the mounting of: EnCase .E01, .L01; AccessData FTK .E01, .AD1; Unix/Linux DD and RAW images; Forensic File Format .AFF; SMART; ISO (CD and DVD images); VMWare image files as a drive letter under the Windows file system.
Key Features
- Map images as a single drive letter to explore "Unused/Non partitioned" disk space or map specific drive letters to any or all partitions within the image files.
- Use third party tools such as Recover My Files without the need to restore images to another PC. Now you can develop or use your own tools without the limitations a scripting language.
- You do not need to have EnCase installed nor do your require an EnCase dongle to use Mount Image Pro. This gives you and your clients total flexibility when dealing with EnCase evidence files.
OS :
Windows XP/Vista/7/8/10
Language
: English
Home Page
-
http://www.mountimage.com/