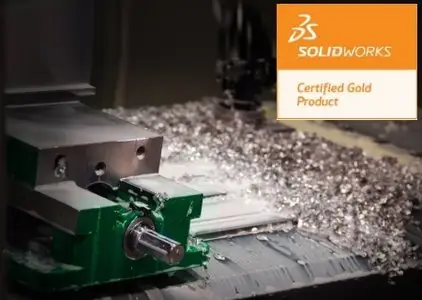 Geometric Technologies CAMWorks 2011 SP2.0 for SolidWorks 2010-2011 | 527.0 mb & 564.4 mb
CAMWorks 2011 is intended to be a more focused, upgrade in the CAMWorks line, with the key highlights being performance improvements and making it more user-oriented. Numerous under-the-hood tune ups that boost the overall performance have been added.
About Geometric
Geometric is a specialist in the domain of engineering solutions, services and technologies. Its portfolio of Global Engineering services and Digital Technology solutions for Product Lifecycle Management (PLM) enables companies to formulate, implement, and execute global engineering and manufacturing strategies aimed at achieving greater efficiencies in the product realization lifecycle.
Headquartered in Mumbai, India, Geometric was incorporated in 1994 and is listed on the Bombay and National Stock Exchanges. The company recorded consolidated revenues of Rupees 5.12 billion (US Dollars 108.1 million) for the year ended March 2010. It employs close to 3000 people across 11 global delivery locations in the US, France, Romania, India, and China. Geometric is assessed at SEI CMMI Level 5 for its software services and ISO 9001:2000 certified for engineering operations.
About CAMWorks for SolidWorks
CAMWorks is a SolidWorks Certified Gold Product for Manufacturing/CAM Software that provides state-of-the-art machining capabilities seamlessly integrated into the award winning SolidWorks design software. As the first CAM solution to offer true knowledge-based machining capabilities, CAMWorks leads the way in advancements in Automatic Feature Recognition (AFR) and Interactive Feature Recognition (IFR). CAMWorks offers true associative machining automatically accommodating changes to the part model, which eliminates time consuming CAM system rework due to design updates.
More info:
www.camworks.com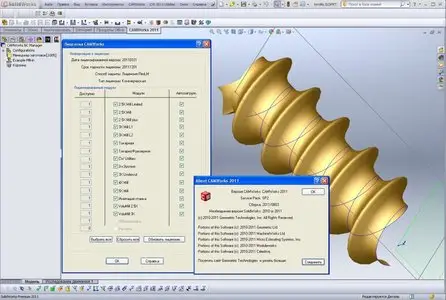 visit my blog
Name:
Geometric Technologies CAMWorks
Version:
2011 Service Pack 2.0 (build 2011/0803) 32bit & 64bit
Creator:
www.camworks.com
Interface:
multilanguage
Platform:
SolidWorks 2010-2011 32bit & 64bit, MS Access 2003-2010 32bit only!
OS:
Window XP / Vista / Seven / Server 2003
Size:
527.0 mb & 564.4 mb
Geometric Technologies CAMWorks 2011 SP2.0 for SolidWorks 2010-2011 32bit
Скачать | Download c filesonic.com
Скачать | Download c letitbit.net
Скачать | Download c depositfiles.com
Скачать | Download c vip-file.com

http://www.filesonic.com/file/1619125541/gtcw11s2032b.part1.rar
http://www.filesonic.com/file/1624971511/gtcw11s2032b.part2.rar
http://www.filesonic.com/file/1625001501/gtcw11s2032b.part3.rar

http://letitbit.net/download/16544.1e62938cdb21405f34b3bca9b8d2/gtcw11s2032b.part1.rar.html
http://letitbit.net/download/26569.2bf544b3f9758c2784b304541bf8/gtcw11s2032b.part2.rar.html
http://letitbit.net/download/06559.0cf6dc77ae56fedb836c103f2823/gtcw11s2032b.part3.rar.html

http://depositfiles.com/files/2yxczyuc6
http://depositfiles.com/files/gfqiu6gxw
http://depositfiles.com/files/hw8mabmfj
Geometric Technologies CAMWorks 2011 SP2.0 for SolidWorks 2010-2011 64bit
Скачать | Download c filesonic.com
Скачать | Download c letitbit.net
Скачать | Download c depositfiles.com
Скачать | Download c vip-file.com

http://www.filesonic.com/file/1624985221/gtcw11s2064b.part1.rar
http://www.filesonic.com/file/1620682291/gtcw11s2064b.part2.rar
http://www.filesonic.com/file/1620936581/gtcw11s2064b.part3.rar

http://letitbit.net/download/72815.7b2e47e9093fd5cce620965983d8/gtcw11s2064b.part1.rar.html
http://letitbit.net/download/95402.956198b532de12ab380a96cf7e24/gtcw11s2064b.part2.rar.html
http://letitbit.net/download/30793.3187f94c6b12fb3a4a9e4cd2246a/gtcw11s2064b.part3.rar.html

http://depositfiles.com/files/qrqvljkr0
http://depositfiles.com/files/xj2kpxhq4
http://depositfiles.com/files/7k2m5vj6m
All parts on depositfiles.com, letitbit.net, filesonic.com interchanged. It is added by 5% of the overall size of the archive of information for the restoration

No mirrors please