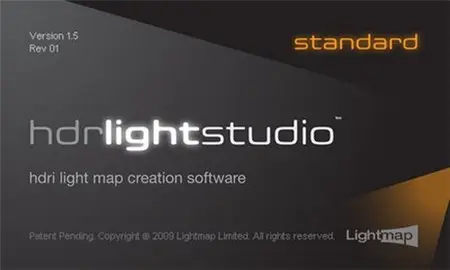 HDR Light Studio Pro 2.0 + Picture Lights (x32/x64) | 18.3/756.4 MB
HDR Light Studio™ has been created for 3D computer graphic artists wanting to create studio photography style renderings of products, packaging and vehicles. Surrounding your 3D data with a good quality studio HDRI map helps to create an image that is a good match for traditional photography, and can then be used for advertising and marketing.
Studio photographers surround their subject matter with different shaped light sources, reflectors and lighting effects - carefully positioning them all to bring out the best in the items being photographed - controlling both the lighting and reflections. This is most important for surfaces that are shiny and reflective - like gloss plastics, metallic paints and chrome/metallic finishes.
So at last you can quickly replicate these studio lighting techniques with your own bespoke HDRI maps, made to measure for each of your rendering projects. HDR Light Studio™ gives you the freedom to quickly adjust your lighting setup to ensure the best results - just like a real photo-shoot!
Synthetic Lighting System
At the heart of all versions of HDR Light Studio™ is the Synthetic Lighting System. This allows for the creation and placement of mathematically generated light sources on the canvas, resulting in visually perfect lights. Simple, yet powerful properties control the look and feel of the lights to generate almost infinite possibilities.
OS :
Win XP/2000/Vista/Win 7
Language
: English
Home Page
-
http://www.hdrlightstudio.com/
Download link:

filesonic
http://www.filesonic.com/file/1612315821/LIGHTMAP_HDR_LIGHT_STUDIO_PRO_V2.0-XFORCE.rar

Download link Picture Lights:

http://www.filesonic.com/file/1612334804/LIGHTMAP_PICTURE_LIGHTS_FOR_HDR_LIGHT_STUDIO_PRO_V2.0-XFORCE.part1.rar
http://www.filesonic.com/file/1612334684/LIGHTMAP_PICTURE_LIGHTS_FOR_HDR_LIGHT_STUDIO_PRO_V2.0-XFORCE.part2.rar
http://www.filesonic.com/file/1612334874/LIGHTMAP_PICTURE_LIGHTS_FOR_HDR_LIGHT_STUDIO_PRO_V2.0-XFORCE.part3.rar
http://www.filesonic.com/file/1612329714/LIGHTMAP_PICTURE_LIGHTS_FOR_HDR_LIGHT_STUDIO_PRO_V2.0-XFORCE.part4.rar


My News

No more mirror please!