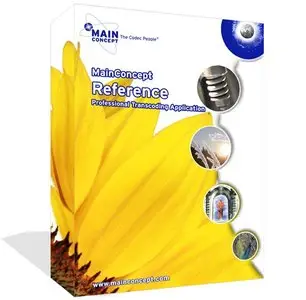 MainConcept Reference 2.2 | Mac Os X | 26 MB
MainConcept Reference 2 is a powerful yet easy to use application that enables video professionals to transcode video & audio streams into various delivery formats required for Apple iPod®, Sony PSP, Blu-ray Disc, DVD, AVCHD, HDV, XDCAM, Adobe Flash, and others. MainConcept Reference contains "pre-sets" for many popular formats to take the guess-work out of picking the proper output format, and can even capture and encode video live from various sources.
MainConcept's Reference application is unique in that it creates an ecosystem for MainConcept codec plug-ins. The Reference application is provided as a free download and contains all the available MainConcept codec plug-ins, fully functional, in demo mode (demo rendered output video contains a watermark). Users can purchase full versions of codec plug-ins that suit their needs from the MainConcept web store, providing maximum flexibility and affordability.
Currrently supported codecs include:
MPEG-2 (incl. MPEG-1)
H.264/AVC (Professional Version)
H.264/AVC (Broadcast Version)
MPEG-4 Part 2
VC-1 Pro
DVCPRO HD
JPEG2000
Dolby Digital Professional
Dolby Digital Plus Pro
Features:
Capturing from many different devices in their native format and various other codecs.*
Subtitle rendering support for *.srt and *.sub files.
New easy-to-use preset structure for quick access to the most important presets.
Many powerful video and audio filters for different production environments and occasions.
Improved user Interface for better handling and managing of transcoding jobs and projects.
Direct access to import modules when opening streams for transcoding.
Numerous ready-to-use export presets, including many new and improved ones.
Configurable preset shortcuts for quick access to often used transcoding profiles.
Pluggable input and output formats.
Up-/down scaling of any input size to output dimensions.
Framerate/sample rate conversion.
Supports all features of the MainConcept codecs.
Watch folder to allow background transcoding.
Specify in-/out points for encoding.
Chapter point support.
Batch encoding: multiple tasks allowed, where each task can have multiple input files.
Saving/restoring batch lists.
Drag & drop new files from Explorer into the batch tasks.
Specify target output file size.
Muxing streams from different input files.
View input and output file in external player.
Available Input Formats:
DirectShow import (Win)
QuickTime import (Win)
MPEG-1/2, MPEG-4 Part 2, VC-1 & H.264
DVCPRO
JPEG2000
Available Output Video Formats
H.264/AVC
MPEG-1/2
DVCPRO 25/50/100 (HD)
MPEG-4 Part 2
VC-1
JPEG2000
Available Output Audio Formats:
PCM
MPEG-1 Audio
AAC
WMA
Dolby Digital Professional
Dolby Digital Plus Pro
Available Output Muxer Formats:
Elementary Stream
MPEG-2 PS/TS
MP4
3GP
F4V
ASF
MXF
AVI
MJ2
DIF
RAW
Mac OS X 10.5 or higher (Mac/Intel)