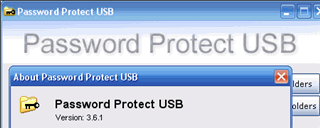 Password Protect USB v3.6.1
RAR | RS & MU | 1.4 MB
Password Protect USB lets you set a password on any folder containing your sensitive data. You can protect an unlimited number of folders on your hard drive, USB external and removable drives. The program supports Windows XP, 98, 2000, NT, ME, Vista.
Password Protect USB is a software program designed to protect an unlimited number of folders with your personal passwords. To protect your information, you do not have to move all your files to a special secure folder; you can set a password on any folder containing your sensitive data. The first time you need to run Password Protect from the installation directory. After that, you can simply right-click the folder in Windows Explorer and select Lock With Password Protect USB from the right-click menu. You can protect folders on your hard drive, USB external and removable drives. If you install Password Protect USB right on your removable drive, you can protect/unprotect folders at any computers your drive is connected to. To unlock your folder, you do not need to run the program: just double-click the folder in the right pane of Windows Explorer and enter your password. The program was designed with safety in mind. For example, if you try to protect a system folder, which is crucial for Windows to run properly, Password Protect USB displays a message explaining why you should not do that. Password Protect USB supports Windows XP, 98, 2000, NT, ME, Vista. It is very user-friendly. Platform: Windows 98, Windows Me, Windows NT, Windows 2000, Windows XP, Windows 2003, Windows Vista Starter,Windows Vista Home Basic,Windows Vista Home Premium,Windows Vista Business,Windows Vista Enterprise,Windows Vista Ultimate