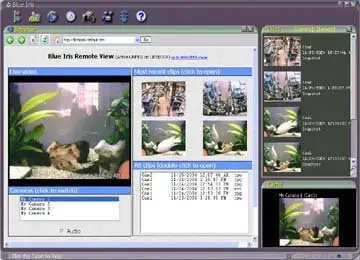 Perspective Software Blue Iris 2.55.4 | 31.32 Mb
Blue Iris is a useful professional-grade program which uses the latest video software technologies, including MPEG and Windows Media webcasting. Watch your home, cars, and valuables. Watch your pets or your kids. Watch your nanny, babysitter, or your friends. Use up to 12 cameras (web-cams, camcorders, network IP cams or analog cards). Use motion detection, audio detection, or capture continuously. Overlay text and graphics. Use the built-in web server, or post to a website. Receive alerts via loudspeaker, e-mail, instant messaging, or phone. Updates and support included.
Here are some key features of "Blue Iris Full":
16 camera support
Filter clips by camera
IVC-100, Axis 206, Sony SNC, Linksys WVC11B and ASF streaming support
Panasonic IP camera support;Gadspot NC1000 support
Run as a Win32 service (no login required)
Auto-restore window when motion is detected
System Requirements:
Pentium 4 or AMD Athlon 2GHz processor or better
1GB or better system RAM
Microsoft Windows XP, Server 2003 or Vista
Microsoft DirectX version 8.0 or better
One or more USB, DV (Firewire), or Network IP cameras, or an analog capture card.
4 MB or better graphics adaptor with DirectX support drivers.
Homepage
-
http://www.blueirissoftware.com/