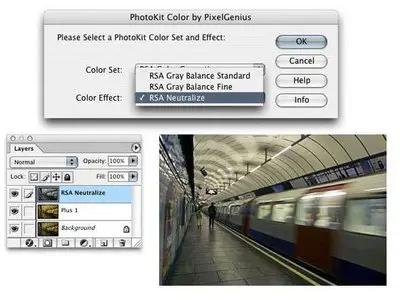 PhotoKit Color 2.1.8 | Mac Os X | 27.3 MB

PhotoKit Color is a Photoshop Plug-in that applies precise color corrections, automatic color balancing and creative coloring effects.
Color plays a huge role in how we perceive and describe the world we see, so it's hardly surprising that one of the first things we want to do to a photograph when we bring it into Photoshop is to adjust accurately or play creatively with the color in the image. Photographers in particular have long desired to reproduce traditional photographic processes digitally using Photoshop.
PhotoKit Color's image enhancements and adjustments are easy to use. Choose PhotoKit Color 2 from the File menu's Automate sub-menu, and this will launch the PixelGenius Toolbox from where you can easily select the desired image effect. Then let PhotoKit Color 2.0 do the work.
PhotoKit Color 2.0 now features a dialog called the PixelGenius Toolbox that will quickly preview the effects before you apply them and combine effects in a single batch operation. Included in the new effects are the Dodge and the Burn filter sets, which were in the original PhotoKit plug-in. The Special Effects series contains many new filters including color infrared, sunshine filters, color transfer effects, a nocturnal 'day for night' effect and more. The Film Effects series offers accurate simulation filters of several generic chrome film emulsions, simulating both color and contrast.
Like its predecessor, PhotoKit Color 2.0 provides a comprehensive suite of effects that let you recreate creative effects like black and white split toning and cross processing. All these effects are applied as separate layers so the user can make further variations, adapting each effect to suit their own tastes. With PhotoKit Color 2.0, you can enhance specific colors in your photographs. You can make skin tones less red or lighter. And with the RSA Gray Balance set, you can automatically remove color casts from almost any type of image.
Compatible with Photoshop CS3, CS4 & CS5*Macintosh
PowerPC® G5 or multicore Intel® processor
Mac OS X v10.4.11+
512MB of RAM (1GB recommended)
2GB of available hard-disk space for installation; additional free space required during installation (cannot install on a volume that uses a case-sensitive file system or on flash-based storage devices)
1,024×768 display (1,280×800 recommended) with 16-bit video card
Some GPU-accelerated features require graphics support for Shader Model 3.0 and OpenGL 2.0
DVD-ROM drive
QuickTime 7.2 software required for multimedia features
Broadband Internet connection required for online services*