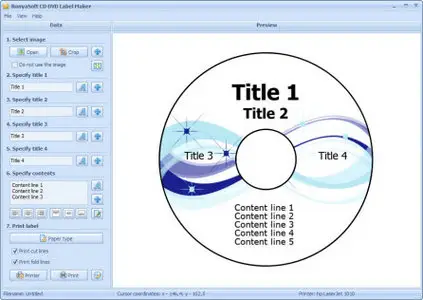 RonyaSoft CD DVD Label Maker 3.01.05 | 7.05 MB
Have you ever wanted to make your own CD and DVD covers? E.g. for video or for MP3 collections? For family photo archives or for data backups? For prominent events or for gifts? If yes, we would like to introduce a fine solution for you. CD DVD Label Maker is a software for designing and printing great-looking CD and DVD Labels and Covers.
Do you have a problem searching for a disc in your collection? Are you a little bit bored of handwritten scribbles on your CD-Rs and DVD-Rs? If yes, it's a good time to start organizing your audio, music and data collection on CDs and DVDs.
Furthermore, with the help of CD DVD Label Maker you even can get rid of many plastic disc cases and clear some space for your new compact discs. You also can create temporary paper sleeves to give burned CDs or DVDs to your friends.
Features
* Supports round CD and DVD labels
* Supports CD Front, CD Front Double, CD Back case inserts
* Supports DVD, Slim DVD covers
* Supports Paper Sleeves and Folded Paper Cases (Origami CDs)
* Supports standard paper formats (A5, A4, A3, …)
* Supports label stock papers (Avery, PressIt, Neato, …)
* Supports CD label printers (HP, Canon, Epson, …)
* Supports label projects
* WYSIWYG-editor
* Amazing skins
Environment
Windows 2000, Windows XP (32 & 64), Windows 2003 (32 & 64), Windows Vista (32 & 64), Windows 7 (32 & 64), Windows 2008 (32 & 64).
Requirements
Pentium II 900, 128 Mb RAM, 10 Mb hard space, regular printer or CD label printer.
Homepage
-
http://www.ronyasoft.com/products/cd-dvd-label-maker/