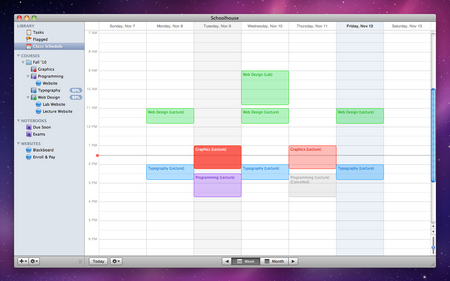 Schoolhouse v3.2.2 Mac OS X | 1.5 MB
Schoolhouse is an academic management application for students. Use it to manage your homework, grades, schedule and the rest of your school life. Great features like automatic grade calculation, smart criteria and file attachments make organizing your tasks simple. Schoolhouse 3 builds on this by adding better customization, support for in-app websites, MobileMe syncing and more.
Simple, Effective, Elegant
Schoolhouse is designed to be easy to use while at the same time effective to use in your everyday academic life. Powerful features give you the upper hand.
Calendar
See your tasks by week and month for a fast look into your work
Class Schedule
View your classes, mark cancellations and plan accordingly
Grading
Calculated course grades keep you on top of your classes
Smart Notebooks
Organize your tasks by smart criteria as easily as music in iTunes
Appearance Rules
Change the color and style of tasks using smart criteria
Websites
Quick access to course and institution websites
Files
Attach documents and media files to your tasks for quick access
Dock Badge
Heads up on how many tasks you need to work on
Quick Entry
Use a shortcut key to pop up a new task panel from within any application
MobileMe Sync
Sync your library between multiple Macs using your MobileMe account
Homepage:
http://www.schoolhouseapp.com/