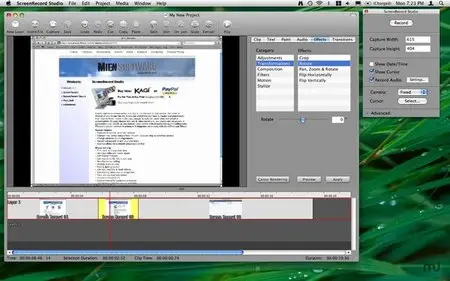 ScreenRecord Studio 2.2 | Mac Os X | 10.4 MB
The all-in-one screen capture production suite. Easily capture on-screen action to a movie from start to finish. It's the best of both worlds: the power of MediaEdit and ScreenRecord. It includes everything you need to create your presentation. Import video clips, images & audio to create clear and powerful presentations. Engage viewers with text & video transitions, and easily add voiceovers to personalize your results as you maintain total control over all audio mixing and editing steps. Picture-in-picture narration is a breeze! It integrates seamlessly with QuickTime and iMovie.
Screen Capture:
•Captures & records on-screen actions
•Highlight key points using a fixed, smooth, auto panning, or scrolling camera
•Change cameras live during capture
•Record voice-overs or add your own music
•Add transitions for a smooth presentational flow
Movie Editing:
• Trim, split, and crop your clips
• Unlimited video and media layers
• Add chapter markers
• Edit movies in HD, SD, or any size
• Non-destructive editing
• Multiple levels of undo
• Color & lighting control
• Add text, captions & credit effects
• Add existing video clips or image files
• Paint directly over your movie
• Picture-in-Picture (PIP)
• Capture from a DV camera or a webcam
• Live previews and background rendering
• Powerful yet easy-to-use timeline
• Resize and position clip display region
• Comes with standard effects, filters and transitions
• Video composition: chroma keying, matte, hard light, etc.
• Export to iDVD, QuickTime, DV, MPEG-4 and to the web
Requirements
Intel, Mac OS X 10.4 or later
Version 2.2:
Support for Mac OS X 10.7.