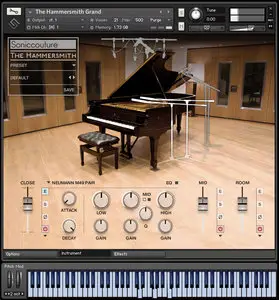 Soniccouture The Hammersmith Professional Edition v2.3 KONTAKT | 47.9 Gb
Your ultimate piano? It might be. Pianos are very personal. There is always another 'greatest': more samples, more articulations, more tricks. But this one is ours, the way we wanted it. We think it's smoother to play, cleaner-sounding and a bit more real than any other sampled piano out there. We hope you agree.
When you play a note on a piano, one string rings. When you play a note and press the sustain pedal, all the strings ring. Most piano VSTis only do the first thing, and then fake the second thing. We recorded both. 21 velocity layers per note with sustain pedal up and down. When you press down your sustain pedal, you'll understand why we did it.
Details:
* 21 Velocity Layers With Anti-Repeat
* True Sustain Sampling
* 6 Mic Positions
* CLOSE: M49 Pair or D19
* MID: KM133D Pair or MK4 Pair
* ROOM: M50 TREE or KU100 HEAD