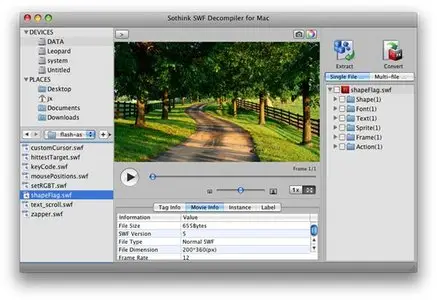 Sothink SWF Decompiler 6.3 | Mac Os X | 19.6 MB
Flash Decompiler Mac is a comprehensive SWF to FLA converter, SWF to FLEX converter and SWF elements extractor. It easily helps you to convert SWF to FLA or FLEX on Mac, and easily extract SWF resources like images, sounds (mp3, wav), videos (flv), ActionScript, etc. Supports Flash 8/9(CS3)/10(CS4)/CS5 and ActionScript 3.0.
Why Choose Flash Decompiler Mac?
Sothink SWF Decompiler for Mac lets you:
Decompile Flash CS5 SWF to XFL
Easily recover FLA files from decompiled SWF
Convert SWF to Flex source code
Extract individual SWF elements such as images, sounds (mp3, wav), videos (flv), ActionScript, etc.
Export ActionScript files as AS and HTML formats
Preview Flash movies of SWF/FLV/F4V format
Main Features
Professional Flash Decompiler Mac
Convert SWF to FLA
Convert SWF to FLEX project
Get XFL from Flash CS5 SWF
Extract SWF elements
Multi-language interfaces: English, German and French
Outstanding Flash Decompile Capability
Decompile SWF on Mac in batch mode
Navigate and browse resources in preview window before decompiling SWF
Decompile ActionScript 2.0/3.0 and display the readable code in ActionScript window with syntax highlighting
Perfect Compatibility
Support Flash 6/7(MX 2004)/8/9(CS3)/10(CS4)/CS5
Support ActionScript 2.0/3.0
Support Flash components
Useful Assistance
Smoothly play FLV/F4V in the preview window
View detailed properties of elements in Flash movies
Auto-display last three export folders when choosing the export path
View the list of recently browsed SWF files conveniently
Supported Platform:
Mac OS X 10.5 or above
Version 6.3:
New Features:
Convert Flash to HTML5: Decompile SWF and export Shape/Font/Text resources to SVG (*.svg) format, or export the Sprite resources to Canvas (*.html) format.
Edit existing SWF files by replacing Shape/Image/Text/Sound resources.
The unregistered version allows you to replace SWF elements and preview results, but saving the new SWF files is prohibited.