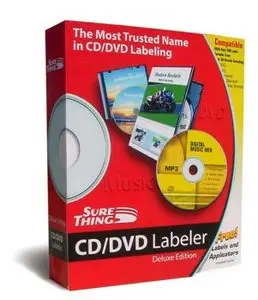 SureThing CD/DVD Labeler Deluxe 5.1.614.0 Portable | 24.16 Mb
The new SureThing CD/DVD Labeler v5 Deluxe Edition is the easiest way to create stunning, professional-looking labels. Supports all major label brands, LightScribe and direct-to-disc inkjet printers.
Whether you make music CDs, burn home videos to DVD, or simply create backup discs, SureThing CD/DVD Labeler v5 Deluxe Edition makes it easy to design, create and print disc labels and case inserts like the pros!
More Layouts & Templates
The Deluxe Edition provides almost limitless design variations, all of which can be customized and personalized… or you can create your own!
The SureThing v5 even lets you coordinate your designs into project files, letting you apply your CD designs, for example, to cases or inserts without having to create separate designs!
Alpha-blend Text & Images
Now you can set transparency for text, objects, photos and clipart, allowing you to blend them into background images or into each other for cool effects.
Create & Manage Playlists
Import song titles, artist & album information directly from your audio CDs or music players into your SureThing designs with a single click! SureThing v5 now supports iTunes (including the ability to grab album art), Windows Media Player, Real Player, WinAmp and others.
With SureThing, it no longer matters whether you are importing audio or data playlists–they'll just work!
More Fonts SureThing v5 has a font for every occasion, whether you're looking for serif, sans serif, decorative or even symbol fonts, we've got you covered. And they're all integrated into the SmartDesign layout assistant, making it easy to choose a perfect font combination for any layout!
Supports LightScribe Direct-to-Disc Labeling
LightScribe is HP's newest media technology for labeling discs, called "Direct Disc Labeling," and it's fully supported in SureThing CD/DVD Labeler Deluxe. This exciting technology uses your LightScribe-enabled CD/DVD drive to create silkscreen quality, iridescent labels burned directly to the disc surface, and SureThing is the first dedicated CD/DVD software package to support it. New to SureThing v5 is the ability to print to multiple drives simultaneously and better performance when burning LightScribe discs!
Supports a variety of CD/DVD Printers including those from Epson, HP, Canon, Primera, Microboards and more.
Import or scan your own images
You can insert images directly from your scanner or digital camera, or use them as backgrounds, create photo collages and more. Photo-editing tools let you crop, rotate and re-size images until you achieve the precise look you want.
Circular Text is a Snap!
Circular Text tool lets you easily create text that follows the contour of CD and DVD edges. Works with any font at any size, and lets you scale, position and rotate the text just by moving the mouse. You can even create spiral and spoke text effects, perfect for song/scene titles, copyright text or any text at all!
3-D Text Effects
Make text pop off your labels using angles, arches, spirals, drop shadows and more! Just type your own text, select a 3D style, choose a variation, then set colors, outlines, drop shadows, backgrounds, etc. It's easy, fast and fun!
Photo Touchup & Editing
Enhance photos with built-in tools and effects. Crop or rotate an image for the perfect fit, reduce red eye, or even sharpen and lighten the photo. For a unique look, add a special effect to photos or backgrounds using the Sepia, Colorize, Posterize or Solarize filters.
Make Photo Collage Covers
SureThing's Background Collage feature is a fun and easy-to-use tool that lets you quickly assemble any of your digital photos and images to create a custom collage you can use as a background for your label and jewel case designs.
Key Features Package Contents
* Fast, easy and powerful label design software
* Includes an assortment of labels and a label applicator
* Built-in support for all leading brands of CD/DVD labels and most others
* Works with popular direct-to-disc inkjet printers
* Supports all LightScribe drives
* Templates for jewel case and DVD case inserts and booklets, VHS, MiniDisc, Zip and other media
* Works with a variety of disc sizes and shapes
* Adjust center hole size dynamically
* Easily create custom label templates
* Import playlists from iTunes, Windows Media Player, Real Player and others
* Create & coordinate multiple label types in a single design file
* Retrieve song, artist and album information with one click
* Auto-insert file names, dates & sizes from backup and data discs
* Scan photos and original disc artwork directly into label designs
* Thousands of professionally designed templates & backgrounds
* Alpha-blending of text, images and photos
* Over 5,000 background & clipart images
* Create drop shadows, 3D text effects, circular text and more
* Touch-up photos, remove red-eye, adjust sharpness and colors
* New Barcode Tool lets you create any type of barcode (UPC-A & E, Code 39, 128 & 93, EAN 13 & 8, Codabar and Interleaved)