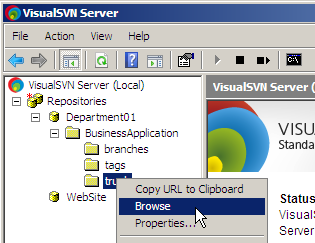 VisualSVN Server Enterprise 2.1.6 | 3.75 Mb
VisualSVN Server allows you to easily install and manage a fully-functional Subversion server on the Windows platform. Thanks to its robustness, unbeatable usability and unique enterprise-grade features, VisualSVN Server is affordable both for small business and corporate users.
VisualSVN Server is based on open standards and offers rock-solid stability, security and performance. Its key features are:
Works out-of-the-box
Powerful management console
Integrated Windows Authentication
Remote Server Administration
Access and Operational Logging
Easy to install, configure and maintain
VisualSVN Server is distributed as a single installation package with the latest versions of all the required components. The installation process is extremely simple and allows you to setup a full-featured and ready to use Subversion server in just a few clicks. Upgrades to newer versions are simple too.
Powerful management console
VisualSVN Server provides a handy management console co-called VisualSVN Server Manager. It is implemented as a standard MMC snap-in and allows you to manage your Subversion server without dealing with configuration files and command line tools.
Genuine Subversion
VisualSVN Server is based on open standards and does not try to introduce a proprietary version control system. Subversion repositories are stored in the standard format and server is accessible by standard Subversion clients such as svn.exe or TortoiseSVN.
Enterprise-ready Subversion server
VisualSVN Server is a feature complete Subversion server that is affordable both for small business and corporate users. Thanks to its unique enterprise-grade features such as Integrated Windows Authentication and Remote Server Administration, VisualSVN Server Enterprise Edition can be seamlessly integrated into a Windows-based corporate network.
March 03, 2011 / VisualSVN Server 2.1.6 Released
VisualSVN Server patch release 2.1.6 is available. This is a security release that addresses critical vulnerability in Subversion.
Comparing to the previous release, there is the single change in the VisualSVN Server 2.1.6:
Updated to Subversion 1.6.16 with fix for critical vulnerability: CVE-2011-0715.
Home Page
-
http://www.visualsvn.com/server/