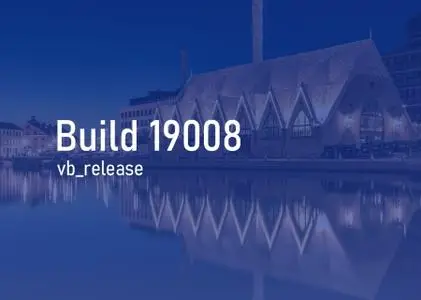 Windows 10 Insider Preview (20H1) Build 19008.1 | 6.0 Gb
Microsoft has releasing Windows 10 Insider Preview Build 19008 (20H1) to Windows Insiders in the Fast ring which is a Cumulative Update with no major changes. We are trying out our servicing pipeline on 20H1 builds.
What's new in Build 19008
- For Insiders that were experiencing their PCs getting stuck on restart and shutdown on Builds 18999-19002:A fix for this was included with the update to Build 19002.1002, but in case you didn't see it, including a note here too. If you didn't install Build 19002.1002, you may need to use the workaround in order to upgrade to this build.
- We fixed an issue where, when optional updates were available, Insiders with the Settings header might see the Windows Update indicator in a warning state, although the main page of Windows Update Settings showed that everything is up to date.
- We fixed an issue resulting in sometimes not being able to bring Settings back up after minimizing the window.
- We've done some work to improve the launch speed of the taskbar jump lists.
- We fixed an issue resulting in the Program Compatibility Assistant popping up with null entries for some Insiders after upgrade.
- We fixed an issue resulting in Windows Hello unexpectedly showing an error message periodically saying "Can't turn camera on" on recent builds.
- We cleaned up some UI in the Mouse pointer settings in Ease of Access.
- We fixed a bug in Narrator where Narrator was not reading link text in the proper language in the Chrome Browser.
- [ADDED] We fixed an issue with the main page of Windows Security where if you hovered over the categories, the background color of the square around the icon didn't match the background color of the rest of the category.
Known issues
- BattlEye and Microsoft have found incompatibility issues due to changes in the operating system between some Insider Preview builds and certain versions of BattlEye anti-cheat software. To safeguard Insiders who might have these versions installed on their PC, we have applied a compatibility hold on these devices from being offered affected builds of Windows Insider Preview. See this article for details.
- We're investigating an issue where initiating "Reset this PC" with the cloud download option isn't working on this build or the previous one when started from Windows RE.
- We've heard that Settings still isn't available outside of launching via the URI (ms-settings:) for some Insiders and are investigating.
- When using dark theme, the hardware keyboard text prediction candidate window is unreadable due to black text on a dark grey background.
- Bluetooth devices may not reconnect as expected after closing the device lid for certain devices. We're working on a fix, but in the meantime, you can toggle Bluetooth off and back on in the Settings app or reboot the device and that should resolve the issue.
- Some Insiders are still reporting that after successfully updating to a new build, the Windows Update Settings page may show the same build needs to install. You can verify the build was successfully installed by checking the build number in the corner of the screen or going to Win + R, typing winver, and confirming the build number. We're investigating this issue.
- Some Insiders are still reporting that when viewing Optional drivers in the new section on the Windows Update page, there may be older drivers showing as available for download. If accepted, they will attempt to install and fail to do so. We're investigating this issue.
- [ADDED] We're investigating reports of frames being skipped, starting with Build 19002, when running games and videos fullscreen.
- [ADDED] Preinstalled apps (like Calculator) are missing from the Apps & Features page in Settings.
- [ADDED] If you use remote desktop connection and the target PC is on this build, within about an hour (if not sooner), DWM may start crashing, and the session window will either go totally black, experience black flashes, or you may get signed out of the remote desktop session altogether.
The Bing Insider Program
gives you a voice and a DIRECT channel to the Bing teams. It's an opportunity to give us feedback on features, concepts, and ideas still in development. We have created a myriad of fun ways to collect your feedback and, what's best, is that you'll be able to see your feedback make a difference. You'll directly help us make Bing great for you, your friends and family.
At Microsoft, we have a number of Insider programs to get customers involved in our product planning. Here are a few that you might be interested in looking into: Office Insider, Windows Insider, Skype Insider, Xbox Insider.
After registering in the Windows Insider Program and installing your first Windows 10 Insider Preview build1, you will begin to receive updates to the device(s) you have enrolled. During the development process, the build number will change with each update.
The options for the frequency of Windows 10 Insider Preview builds are called "rings." Each ring presents a different level of stability and will be delivered on a different build cadence.
The benefit of being in the Fast Ring
is that you will be among the first to use and provide feedback on new and improved features.
The benefit of being in the Slow Ring
is that you'll still receive new updates and features on the Development Branch, but the builds will be more stable. Builds are sent to the Slow Ring after feedback has been received from Insiders on the Fast ring and analyzed by our Engineering teams.
Release Preview Ring
- its if you want to be on the current public release of Windows 10 but still get early access to updates, applications, and drivers without taking the risk of moving to the Development Branch, the Release Preview Ring is your best option.
Microsoft Corporation,
leading developer of personal-computer software systems and applications. The company also publishes books and multimedia titles, offers e-mail services, and sells electronic game systems, computer peripherals (input/output devices), and portable media players. It has sales offices throughout the world.
Product:
Microsoft Windows 10
Version:
Insider Preview (20H1) Build 19008.1.vb_release.191019-1715 *
Supported Architectures:
32bit / 64bit
Website Home Page :
www.microsoft.com
Language:
english, русский
System Requirements:
PC **
Size:
6.0 Gb
19008.1.191019-1715.VB_RELEASE_CLIENTMULTICOMBINED_UUP_X64FRE_NETFX_EN-US_RU-RU.iso
19008.1.191019-1715.VB_RELEASE_CLIENTMULTICOMBINED_UUP_X86FRE_NETFX_EN-US_RU-RU.iso
Processor:1.4 gigahertz (GHz) or faster.
RAM:1 gigabyte (GB).
Free space on hard disk: 20 gigabytes (GB).
Graphics card:DirectX 9 graphics device or a newer version.
Additional requirements to use certain features.
To use touch you need a tablet or monitor that supports multitouch.
To access the Windows store to download and run apps, you need an active Internet connection and a screen resolution of at least 1024 x 768 pixels.
Please visit my blog
Added by 3% of the overall size of the archive of information for the restoration

No mirrors please