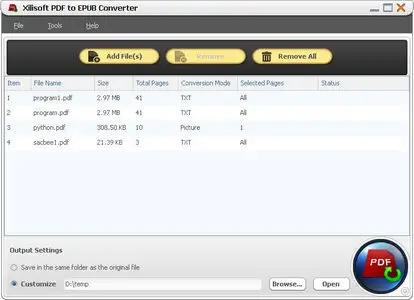 Xilisoft PDF to EPUB Converter 1.0.4.0124 + RUS | 21.88 MB
Xilisoft PDF to EPUB Converter - aimed at electronic book (eBook) users looking for a quick, easy, and efficient way to convert PDF files to EPUB format, Xilisoft PDF to EPUB Converter makes it possible to view PDF files on eBooks by converting them to EPUB format. With Xilisoft PDF to EPUB Converter, PDF to EPUB conversion can be accomplished in just 2 steps: Drag and drop files to application and Hit "Convert"!
Adobe Acrobat and Reader are not required when converting PDF to EPUB and the converted EPUB files will have all original file features preserved. You can also choose to convert certain pages from the source PDF file or convert several PDF files to EPUB in one go. In addition, batch PDF file to EPUB is also supported.
Features:
• PDF to EPUB Conversion without Adobe Reader or Acrobat.
• View PDF files on eBooks in EPUB format.
• Batch PDF to EPUB conversion at high speed.
Home page
-
http://www.xilisoft.com/