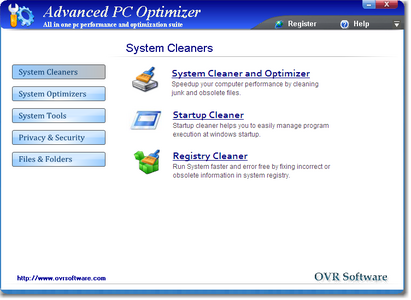 Advanced PC Optimizer 2 Portable | 6.9 Mb
Advanced PC Optimizer
is the bundle of many utilities which are available in a single product. This suite of utilities will identify and eliminate problems which slow any system down. It corrects problems in many areas of your computer including hard disks, memory, registry and more. This gives your PC the boost it needs. Advanced PC Optimizer includes many optimization tools like registry cleaner, junk-file remover and startup cleaner.
Besides giving your computer optimum performance, Advanced PC Optimizer provides security tools that every PC owner must have to keep their PC in good health. Privacy cleaner, bho manager, file and folder shredder tools gives you control of your system in a way that no other utility pack can.
Many people are not entirely familiar with the procedures of maintenance that must be performed in order to service computer systems properly, and most system technicians will agree that the necessary tools are not included in the operating system. Advanced PC Optimizer is a complete collection of all the necessary tools to keep your system running smoothly, speedily, and error free.
Features:
• System Cleaner and Optimizer
• Startup Cleaner
• Registry Cleaner
• ScanDisk Manager
• Registry Tweak Manager
• BHO Manager
• Registry Editor
• Privacy Cleaner
• File and Folder Shredder
• File Splitter and Joiner
Download
Mirror 1
Mirror 2
No more mirrors allowed