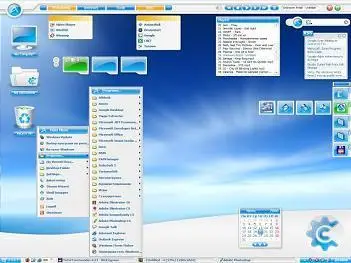 Aston 1.9.2| Application| size 3.51 mb
Top 5 reasons to switch to Aston
Speed.
Most desktop enhancement software tools slow down your system, consuming additional memory and processor resources. Unlike these tools, Aston completely replaces your old desktop and releases your computer's resources for other tasks. Aston runs nicely on systems that labor with the normal Windows XP desktop.
Reliability.
Tested extensively on numerous computers Aston is known to be the most stable program of this kind. It's much more stable than competing programs and even the native Windows 98 and Me desktop.
Power.
Whether you have Windows XP or Windows 98, Aston runs smoothly on any system, providing you with additional toolbars, launch panels and other useful components, allowing you to get more control on your system.
Beauty.
Aston looks great out of the box and if you want more, you can get free Themes from our Themes section or one of numerous related sites. You can change the look and feel of your Desktop with few mouse clicks.
Flexibility.
Create your own desktop and make it look and behave the way you like. That's the main idea behind Aston. Bind hotkeys, tweak desktop components, instal plugins, never lose control over your desktop. No wizardry here, everything is simple. Even if you're not an experienced designer or programmer, you can create your own desktop the way you want it, not like someone else does.
Download
Here
And
Here
Enjoy!!