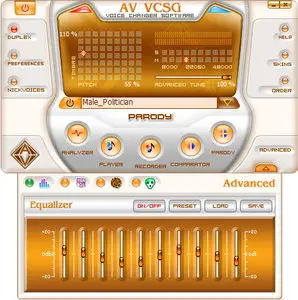 AV Voice Changer Gold 7.0.22 | 16.2MB
AV VCS Features :
- Changes in real time the voice input, either from Microphone, CD, Line-in or auxiliary, into hundred of high-quality female and male voices.
- Morphs in real time the WaveOut and DirectX streams.
- Rich in ready-to-use audio effects.
- Compatible with Voice Chat Rooms, Voice Instant Messengers, Audio Video Conferencing and PC-to-Phone programs. You can disguise your voice to be totally anonymous on Net.
- Compatible with the standard Sound Recorders, Sound Players, CD and Karaoke Players. With AV VCS you can edit the varied voices, sound files, sound
effects for your audio video-clips and movies, you can morph the songs or the MP3 files and create your own album.
- Voice output can be customized by setting the right equalization.

Enjoy My Uploads …