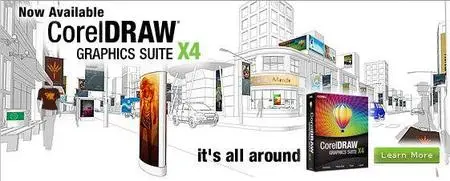 Coreldraw Graphics Suite X4.14.0.0.567 | 298 MB
CorelDRAW Graphics Suite X4 lets you tackle creative graphics and design projects with confidence. Precision tools, market-leading file compatibility and high-quality content help you turn your creative ideas into professional results: from distinctive logos and signs, to striking marketing materials and eye-catching web graphics.
Includes:
10,000 high-quality clipart images, individually selected to meet the needs of design professionals and occasional users alike
1,000 high resolution, royalty-free photographs from iStockphoto®
1,000 OpenType fonts, including Windows® Glyph List 4 (WGL4) and single-line engraver fonts
80 professionally designed templates
CorelDRAW X4: An intuitive graphic design and page layout application.
Corel PowerTRACE X4: The most accurate bitmap-to-vector tracing on the market.
Corel PHOTO-PAINT X4: An image-editing application developed specifically for a graphic design workflow.
Corel CAPTURE™ X4: A one-click screen capture utility.
New and Enhanced Features
- Modernized user interface
- CorelDRAW ConceptShare™
- Corel PowerTRACE™ X4
- EWindows Color System
- Adobe Color Management Module
- Enhanced Windows Vista® integration
- Interactive tables
- Independent page layers
- Integration with WhatTheFont™
- CorelDRAW Handbook - Insights from the Experts
- Support for RAW camera files
- And much more…….