CamTrax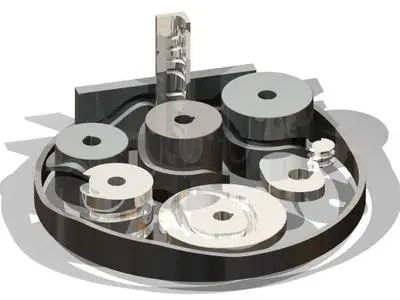 CamTrax
CamTrax™ helps the designer create solid models of virtually every type of cam with the dynamic motion control parameters your system requires. During the design, CamTrax™ generates charts when linked with Excel and adds a profile list to your drawing. Camnetics, Inc. is dedicated to providing the design engineer with accessible software for developing high speed machine cams!
CamTrax™ standard cam types include cylindrical cams, plate (aka disk) cams and linear cams. Choose the follower type that the design requires; on center translating, off center translating, swinging arm and flat-faced reciprocating. Selecting different motion synthesis is a snap with CamTrax. Choose between virtually any standard cam motion with a couple mouse clicks. With Excel the designer can analyze the cam motions and compare different motion synthesis. Don't have Excel? Output can also be to a text file! Charted are displacement, velocity, acceleration, pressure angle, cam shaft torque, radius of curvature, contact stress and normal force.
"I really like your software package… Cams have never been so much fun to design. Software like this is a consultants dream. Thank you very much." Michael Asher, Sr. Mechanical Engineer, MagneVu
Cam Types:
Cylindrical (Barrel)
Segment Cams
Disk
Linear
Follower Types:
On center translating
Double cam followers (Cylindrical cams)
Path on ID of cylindrical cams
Off center translating
Swinging arm
Motions:
Cycloidal*
Harmonic*
Modified Sine*
Modified Trapezoid
Cycloidal/Harmonic*
Harmonic/Cycloidal*
Constant Velocity
Terminal Velocity
3-4-5 Polynomial
3-4-5-6 Polynomial
4-5-6-7 Polynomial
8th Power Polynomial
Constant Acceleration
Double Harmonic
Import custom displacements from text files.
* Symmetry (n) is configurable.
Numerical Tables and Graphs
Displacement
Velocity
Acceleration
Pulse (jerk)
Pressure Angle
Cam Shaft Torque
Contact Stress
Normal Force
Radius of Curvature
Fabrication:
The fabrication module creates NC code for your 3 and 4 axis machine tools.
http://rapidshare.de/files/21891198/Camnetics_CamTrax_2005.132.369_for_Solidworks-DIGERATI.part1.rar
http://rapidshare.de/files/21891430/Camnetics_CamTrax_2005.132.369_for_Solidworks-DIGERATI.part2.rar
password if need : one
size : 6mb