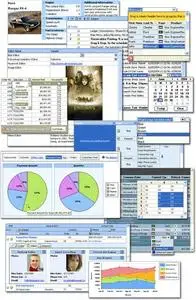 DevExpress ExpressQuantumGrid Suite | 47 Mb
Introducing ExpressQuantumGrid Suite v6, the most capable Grid and Data Editors Library ever created for Delphi and C++ Builder. With the ExpressQuantumGrid Suite, you can create visually stunning interfaces and deliver incredible features/flexibility to your end-users - without writing a single line of code.
From standard two-dimensional tables to runtime grouping and column customization; from master/detail relationships, to card views; from XP themes to unbound mode… the ExpressQuantumGrid Suite has been engineered to fully address your development requirements and help you compete and win in the marketplace - without compromise or hassles.
By now, those of you reading these pages are probably aware of the ExpressQuantumGrid Suite and have either chosen to implement it in your applications or have chosen to delay implementation. If you are among the latter group, we ask that you spend the time to carefully consider what the QuantumGrid Suite brings to the table and how it can revolutionize how you are able to present information to your end-users. The QuantumGrid Suite is not just cutting-edge - it is by far the most comprehensive product library of its kind ever created for Delphi/C++Builder. We certainly realize that it's not the easiest thing to replace grids or other visual controls across an application, but we are incredibly confident that if you undertake this task, your end-users will not only be more effective and efficient, they will sing your praises each and every day.
As you already know and can read in these web pages, in the 5 years since the original release of this product library, the ExpressQuantumGrid has received rave reviews by the public and the press alike - it has won the Best VCL Component category in Delphi Informant's Readers Choice Awards 3 years running. We'd like to take this opportunity to thank all of you for the faith and confidence you've placed in us and our technologies and hope that those who have stood on the sidelines have enough reasons to purchase version 6 today.
download 47 Mb
list of links for some other components:
list of links (1Kb, txt)