Ripara, ottimizza e migliora il funzionamento del tuo PC, TuneUp Utilities 2011, grazie alla sua completezza, alla facilità di utilizzo e all'elevato numero di tool disponibili, si colloca di diritto tra le migliori suite per la gestione, mantenimento e ottimizzazione (ora anche in tempo reale) del tuo PC.
TuneUp Utilities 2011 risolve i normali problemi legati al mantenimento e all'ottimizzazione del tuo computer, offrendoti in un'unica soluzione tutto l'occorrente per portare al massimo l'efficienza del tuo sistema.
Il design di TuneUp Utilities è piacevole e l'interfaccia intuitiva. La suite è davvero completa e offre utility in grande quantità e per tutti i gusti: libera spazio nel tuo disco, pulisce, deframmenta e ottimizza il registro di sistema e la memoria RAM, recupera i dati cancellati accidentalmente, disinstalla i programmi, tiene sotto controllo i processi attivi e i software in esecuzione automatica.
Ma non finisce qui, con TuneUp Utilities 2011 avrai modo di eseguire o programmare il check-up dell'intero sistema. Potrai inoltre verificare i suggerimenti che il programma ti indica per migliorare il funzionamento del tuo computer (aumento della memoria RAM, installazione di un antispyware e così via).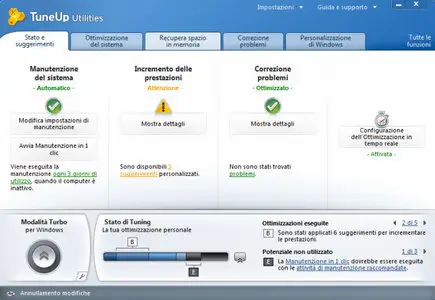 TuneUp Utilities permette anche di agire sull'aspetto estetico di Windows, modificando icone, colori, menu, schermate di avvio, e molto altro. Il programma include la modalità Turbo, che disabilita processi e servizi non necessari, e l'ottimizzazione in tempo reale, che velocizza l'avvio dei programmi e migliora le prestazioni del sistema in qualunque situazione. Da questa versione è presente un utile startup manager denominato TuneUp Program Deactivato. TuneUp Utilities 2011 è pienamente compatibile con Windows 7.
* Controllo accurato di ogni elemento del sistema
* Design piacevole ed intuitivo
* Elevato numero di opzioni su ogni utility
* Nuove funzioni Turbo e ottimizzazione in tempo reale
* In italiano

Filesonic.com

|

Wupload.com

|

Filepost.com


Please DO NOT MIRROR
If you'll find that my links are dead please let me know through the Private Messages.
>>> Visit edi1967 Blog Here <<<