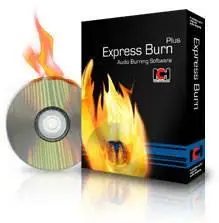 Express Burn Plus version 2.00
Windows Application |
www.nch.com.au
| 0.31 MB
Features
Writes data CDs (for files) audio CDs (to be played in CD Players) and data DVDs (for files).
Records CD Recordable (CDR) and CD Re-recordable (CDRW) discs.
Can also burn ISO compliant data DVDs (DVD-R, DVD-RW, DVD+R, DVD+RW)
Can seamlessly burn audio CDs with no pause between tracks
Support Jolliet and CDA formats.
Data CDs/DVDs support multilevel folders and long file names.
Audio CDs are recorded with direct digital recording (so perfect audio quality is maintained).
For Audio CDs it supports wav, mp3, wma, au, aiff, ra, ogg, flac, aac and a number of other audio file formats.
Data CDs are fully ISO compliant with Joliet extension.
Includes command line operation for automation and integration with other programs.
Simple, easy to use interface for day-to-day operation.
System Requirements
Windows 95/NT4/98/2000/Me/XP/2003.
Pentium 1GHz or above.
CD-ROM drive which supports recording.
DVD-ROM drive which supports recording.
Free of password.
http://rapidshare.de/files/23682582/exburplu200.rar