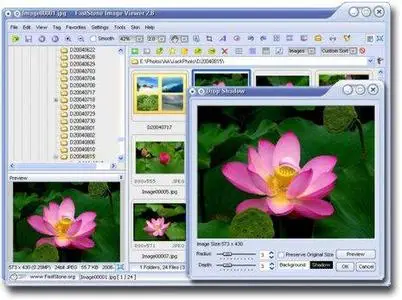 FastStone Image Viewer ver.3.0
| Image Browser | Image Converter | Image Editor | Freeware | Last Update: 2007-02-16 | 3.5 Mb |
A fast, stable, user-friendly image browser, converter and editor. It has a nice array of features that include image viewing, management, comparison, red-eye removal, emailing, resizing, cropping and color adjustments. Its innovative but intuitive full-screen mode provides quick access to EXIF information, thumbnail browser and major functionalities via hidden toolbars that pop up when your mouse touches the four edges of the screen. Other features include a high quality magnifier and a musical slideshow with 150+ transitional effects, as well as lossless JPEG transitions, drop shadow effects, image annotation, scanner support, histogram and much more. It supports all major graphic formats including BMP, JPEG, JPEG 2000, GIF, PNG, PCX, TIFF, WMF, ICO and TGA.
Features:
- True Full Screen viewer with image zoom support and unique fly-out menu panels
- Crystal-clear and customizable one-click image magnifier
- Superior Red-Eye effect removal/reduction with completely natural looking end result
- Image modification tools: Resize/resample, rotate/flip, crop, sharpen/blur, brightness/contrast, etc.
- Eleven (yes, 11) resampling algorithms to choose from when resizing images
- Image color effects: gray scale, sepia, negative, Red/Green/Blue adjustment
- Image special effects: watermark, annotation, drop shadow, framing, bump map, lens, morph, waves
- Multi-level Undo/Redo capability
- One-touch best fit/actual size image display support
- Image management, including tagging capability, with drag-and-drop and Copy To/Move To Folder support
- Histogram display with color counter feature
- Compare images side-by-side (up to 4 at a time) to easily cull those forgettable shots
- Image EXIF metadata support (plus comment editing for JPEGs)
- Configurable batch processing to convert/rename large or small collections of images
- Slideshow creation with 150+ transition effects and music support (MP3, WMA, WAV…)
- Create efficient image attachment(s) for emailing to family and friends
- Print images with full page-layout control
- Create fully configurable Contact Sheets - just like the pros (and save $$$ on ink)
- Create memorable artistic image montages from your family photos for personalized desktop wallpapers (Wallpaper Anywhere)
- Acquire images from a scanner
- Versatile screen capture capability
- Powerful Save As interface to compare image quality and control generated file size
- Run favorite programs with one keystroke from within Image Viewer
- Create a no-install fully portable version of the program which can be run from a removable storage device
- Configurable mouse wheel support
- Supports multiple program skins
- Supports dual-monitor configurations
- And much more…
"I used FastStone Image Viewer to keep track of over four hundred illustrations for my first book. I can truthfully say that I'd have taken twice as long to get this book finished without it. The Image Viewer allows me to look at all project folders simultaneously and then select one folder and view all the artwork within it as thumbnails. I can change the number of the drawing within the program and send or copy the drawing to another folder if necessary–and it was often necesary–all without having to open any of them up in a graphics program. If you need to transfer and rename an entire folder's contents, or if you have graphic images in your files, you need FastStone Image Viewer. Thank you for creating this invaluable program."
Nancy Beiman (animator, educator and author PREPARE TO BOARD! Creating Story and Characters for Animated Features and Shorts)
No Adware No Spyware + Free for Home Users
Enjoy!
:)
IMPORTANT -
My Files Are hosted On Rapidshare only… I Don't Want Mirrors please !!!
–-> If you really want to support the uploader of this, please use only the RapidShare download link given by the original uploader. It's the only way to support the effort made by him. Thanks for your consideration, and happy downloading. :-)
Enjoy!
:)
*
Other titles I posted on AvaxHome
:)