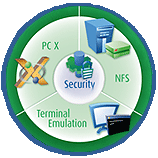 HummingBird Exceed PowerSuite 2007 ver. 12.0 Multilingual
Win32 | Size: 140 Mb
Exceed PowerSuite 2007 – combines Exceed® with Exceed 3D and NFS Maestro Solo, to deliver seamless access from Windows desktops to various computing platforms in an enterprise. The Exceed Family builds on this tradition by extending the power of Exceed to Windows-based and remote users. Backed with the richest feature set, the Exceed Family delivers reduced cost of ownership and increased productivity. The Exceed family includes innovative features that accelerate performance, simplify system administration, optimize users' personal computing environments, and deliver ease.