Backup (with schedule option) to our online secure servers, or SD card, your Applications, Photos, Contacts, Call log, Browser Bookmarks, SMS (text messages), MMS, Calendar, System Settings, Home Screens (including shortcut positions), Alarms, Dictionary, Music Playlists, and more…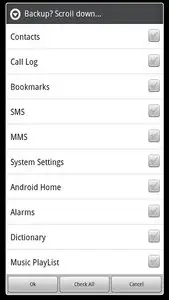 RESTART YOUR PHONE AFTER UPDATING
Supports All Android Mobile Devices and Phones:
HTC, Motorola, Samsung, LG, etc…
Restore your backups on your existing or new phone.
View your data and application backups online, by logging into the Web Viewer at
http://www.RerWare.com
MyBackup Pro will work on all Android mobile devices, regardless if they have root access or not.
Users who have a rooted phone: You can backup apk+data as well as market links!
NOTE: Data/setting of applications can only be supported if you have a rooted phone, or if the application integrates with us.
Recent changes:
- Fix for Data Viewer.
- Data Viewer now uses new screen (Activity) to allow you to view many items without starting over.
- Fix for incorrect SD card location on some devices(Droid X) causing "Unable to open DB" error.
- Fix for schedule online error saying 0MB used\free online.
- Enhanced scheduler logic.
More Info:
http://www.appbrain.com/app/mybackup-pro/com.rerware.android.MyBackupPro
Requirements: for all Android versions, supports App2SD