PD-SyncKit 1.0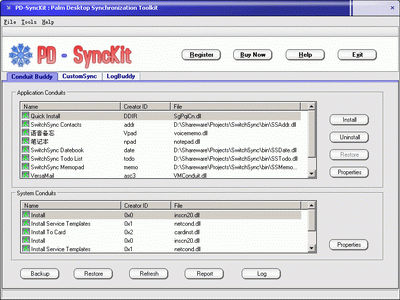 PD-SyncKit 1.0 | Win32 |Size: 1.85 MB
PD-SyncKit is a software package including our three best selling Palm Desktop utility software: Conduit Buddy, CustomSync and Log Buddy.
The three utility software are integrated into one software package, run in one user interface.
Conduit Buddy
Conduit Buddy lets you install and uninstall Palm Desktop HotSync conduits smartly. You may remove the unwanted conduits with a click to make the Palm Desktop HotSync environment cleaner. Conduit Buddy also let you customize the HotSync conduits easily. And you may also restore the conduits you uninstalled by Conduit Buddy, backup and restore system conduits settings, and more.
CustomSync
CustomSync lets you customize the Palm Desktop HotSync user settings quickly. Sometimes you may don't want to synchronize some of the Palm applications with your PC because of the long HotSync time. You may use CustomSync to set the HotSync settings quickly. The HotSync settings may be applied to multiple users sharing the Palm Desktop by a simple click.
Log Buddy
Log Buddy is a enhanced HotSync log viewer for the Palm Desktop. This software analyze the plain text HotSync log file and collect the information by HotSync time and categories. The HotSync log is displayed in the tree structure which makes the log much easier to read than before. With simple clicks, you can get to know your HotSync operations in the former months and years. You don't need to read log using the HotSync manager that comes with Palm Desktop any more.
Rapidshare
http://rapidshare.de/files/36635169/PDSyKtv10.rar.html
No Password
Best regards,
WebGurru