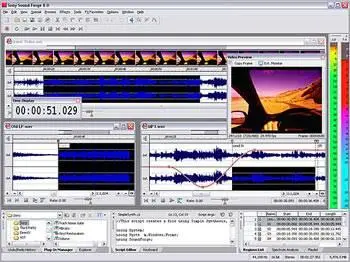 Sony Sound Forge ver. 8.0d | Windows | 42,7 MB
Sound Forge software is the tool of choice for media professionals who want to create and edit digital audio files with speed and absolute precision. Acclaimed for its power, stability, and no-nonsense interface, it's the fastest way to get from raw audio to finished master. Sound Forge software is everything you need to analyze, record, and edit audio, produce music loops, digitize and clean-up old recordings, model acoustic environments, create streaming media, and master replication-ready CDs.
Includes CD Architect 5.2 Software
Sound Forge 8 software includes a full version of CD Architect 5.2 software for comprehensive disc-at-once (DAO) CD burning. CD Architect 5.2 software includes CD Text reading and writing, and updated drive support.
A Powerful Audio Editor
Cut, paste, mix, crossfade, and delete audio with unparalleled speed and accuracy.
Professional Audio Recording
Sound Forge software provides the ultimate set of tools for recording audio. Record straight into your computer via your sound card and use the Record Timer to begin and end a session at a specific time and date.
Pristine Audio Quality
Sound Forge software supports full resolution 24-bit/32-bit 192 kHz files for the ultimate in audio fidelity.
Professional Audio Effects
Apply over 40 professional studio effects and processes including Volume, EQ, Delay, Chorus, Dynamics, Noise Gate, Pitch Shift, Flange, Vibrato, and more.
Extensive Video Support
Sound Forge software supports multiple video formats including AVI, WMV, and MPEG-1 and MPEG-2.* Synchronize audio and video frame-by-frame. Import Flash (SWF) files† to visually synchronize your audio to your project. Includes new MPEG-2 templates for writing HDV-compliant files at both 720p and 1080i resolutions, and AVI templates using the CineForm CFHD codec* for 720p and 1080i intermediate renders. Also included are templates for encoding WMV 720p and 1080p.
Audio Restoration Tools
Sound Forge software automatically scans sections of your file and marks sample peaks that are clipping for easy fixing. Use the Vinyl Restoration noise reduction tool to easily remove clicks, pops, and other noise from your recordings.
http://rapidshare.com/files/3178355/snd-fg80d.rar