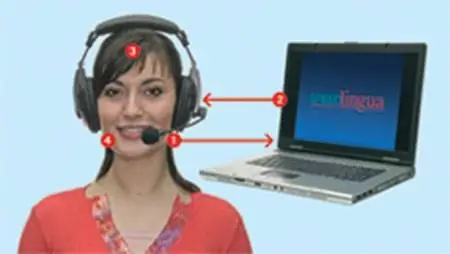 PROFESSIONAL ENGLISH V1.5.014 Method SPEEDLINGUA | 376Mb.
Speedlingua is a genuine breakthrough in language learning. It is a unique PC based learning tool to train the ear to perceive the frequencies of the target language.
Scientific base
Speedlingua method is based on the following principles:
1. The voice reproduces only what the ear can hear
2. The ear is trained to the mother tongue frequencies
3. As there are differences in the frequencies between the target language and the mother tongue, the user will encounter problems in understanding and pronouncing the target language
4. If the ear is trained to the target language frequencies, instantaneously and unconsciously the voice reproduces those frequencies
5. Audio stimulation improves the comprehension and consequently, the target language pronunciation
6. Real time treatment improves auditive perception as well as pronunciation
The principles are based on the audio-phonology theory, which is well documented, and on our own observation with students. The principles of the audio-phonology theory were brought to the fore by Dr Tomatis since 1953. Since then, leading specialists like Dr Auriol, doctors Garde, Large and Husson, and Dr Joffrin among many others have been working in this area.